Foxconn, an Apple partner, receives an AirPod order and plans a $200 million factory in India.
Published: 3/16/2023 6:54:15 AM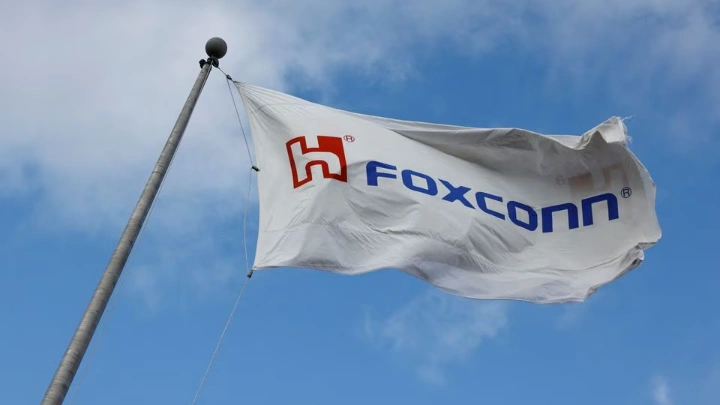 A Foxconn flag is seen at the company's electric vehicle production facility in Lordstown, Ohio, U.S. November 30, 2022. REUTERS/Quinn Glabicki
According to two people with direct knowledge of the situation, Taiwanese contract manufacturer Foxconn (2317.TW) has been awarded a contract to produce AirPods for Apple Inc (AAPL.O) and plans to erect a factory in India to do so.
The agreement highlights Foxconn's efforts to further diversify production away from China as it will make the company an AirPod supplier for the first time. Foxconn is the largest contract electronics manufacturer in the world and assembles about 70% of all iPhones. Several Chinese manufacturers currently produce AirPods.
According to one source, Foxconn will invest more than $200 million in the new Telangana AirPod plant in southern India. The value of the AirPod order wasn't immediately apparent.
The source, who wished to remain anonymous because the situation had not yet been made public, claimed that Foxconn executives had internally debated whether to assemble AirPods for months due to the device's relatively lower profit margins, but ultimately decided to move forward with the agreement to "reinforce engagement" with Apple.
We are more likely to receive orders for their new products if we do that, the person said.
According to the source, Apple requested that production be moved to India.
Foxconn competes against rival Taiwanese firms like Wistron Corp (3231.TW) and Pegatron Corp (4938.TW) for orders from Apple, the most valuable company in the world.
According to the source, a subsidiary, Foxconn Interconnect Technology Ltd (6088.HK), intends to begin building a manufacturing facility in Telangana in the second half of this year and start producing goods no later than the end of 2024.
Following the news' initial publication by Reuters, the share price of the Foxconn subsidiary increased by almost 9%, reversing a 2.2% decline. While the Taipei benchmark (.TWII) was down 1.1%, shares of Foxconn themselves increased by 0.5%.
Without going into further detail, a second person with direct knowledge of the situation who also declined to be named because the information was not yet public, said the Foxconn subsidiary will manufacture AirPods in India.
Analysts have previously reported that Apple has asked suppliers, such as Foxconn, to manufacture AirPods in India, but specifics regarding the scope of the investment, the timetable, and which suppliers have such plans have not been made public.
Foxconn opted not to respond. A request for comment from Apple was not immediately complied with.
The production of Apple and its major suppliers has been moved out of China, where last year's disruption caused by COVID-19 restrictions at Foxconn's largest iPhone factory. Additionally, they want to prevent growing Sino-American trade tension from harming their company's bottom line.
In order to meet customer demand and lessen its reliance on China for production, Foxconn declared on Wednesday that it would increase investment outside of China.
Whether Foxconn's production plan would have an effect on current AirPod suppliers, such as Luxshare Precision Industry, was unclear at the time (002475.SZ).
A Reuters inquiry for comment received no immediate response from Luxshare.
Another supplier, Goertek Inc (002241.SZ), reported in November that a foreign customer had requested it to halt assembly work for a smart acoustic product, which analysts at the time identified as AirPods Pro 2. The supplier estimated that the suspension would reduce revenue by up to 3.3 billion yuan ($480 million).
A request for comment from Goertek was not answered.
$1 is equal to 6.8864 Chinese yuan renminbi.