Real cruise past Liverpool to reach the Champions League quarterfinals.
Published: 3/16/2023 5:09:09 AM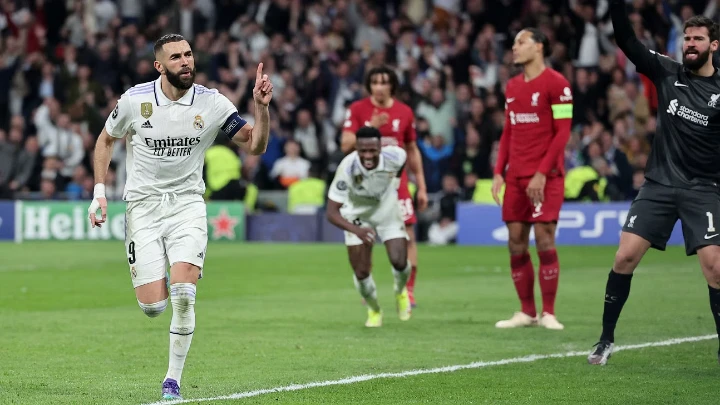 Real Madrid's Karim Benzema celebrates scoring his team's first goal during their UEFA Champions League last 16 second leg match against Liverpool at the Santiago Bernabeu stadium in Madrid on March 15, 2023. Photo: AFP
Real Madrid easily defeated Liverpool 1-0 in the second leg of their round-of-16 match on Wednesday to win the match 6-2 on aggregate and advance to the quarterfinals of the Champions League. Karim Benzema's goal in the second half sealed the victory.
A disciplined Real seemed content to sit back against a tame Liverpool team that posed little threat for the majority of the game as they sought to win back-to-back Champions League championships and a record-extending 15th European crown.
Real missed several chances to get on the board as they attempted to take advantage of Vinicius Jr.'s speed on the counterattack, but they were unable to do so until the very end of the second half.
When Vinicius flicked a loose ball inside the box to Benzema, who then tapped it into the open goal, they won the game.
Benzema said to Movistar Plus, "There are no easy wins in the Champions League and it was a complicated match, but we showed from the start how serious we are in our desire to advance in the competition this season.
"Today's football is about suffering; it is a component of the game. Everybody desires more. You will always experience pain. To succeed and advance to the next round is crucial."
Juergen Klopp, the manager of Liverpool, selected a very attacking team with forwards Mohamed Salah, Cody Gakpo, Diogo Jota, and Darwin Nunez in the starting lineup. Liverpool needed a three-goal victory after losing 5-2 at home.
Nunez came close to scoring in the sixth minute after Salah stole the ball from Eder Militao and set him up, but Thibaut Courtois stopped his low shot.
With only Vinicius Jr. and Benzema up front and two organized four-man defensive lines, Real Madrid attempted to counterattack by utilizing the Brazilian's speed down the left.
He gave Benzema two opportunities to score, but the French forward squandered both.
Vinicius nearly scored in the 14th minute, but Liverpool goalkeeper Alisson brilliantly blocked his point-blank volley.
Eduardo Camavinga unleashed a thunderous shot from long range that smacked against the crossbar, and Luka Modric also fired a fierce shot that narrowly missed the target for Real.
Nunez and Gakpo both had good saves from Courtois to block their shots, but Real Madrid maintained control and appeared content to control the game's tempo to frustrate their opponents.
In the second half, the home team played more aggressively and should have scored thanks to missed opportunities from close range by Federico Valverde and Karim Benzema.
Finally, though, Vinicius recovered an errant Benzema shot's loose ball and passed it to the unguarded Frenchman, who broke the tie.