Sub-standard helmets will not be allowed
Shining BD Desk || Shining BD
Published: 7/4/2022 4:36:05 AM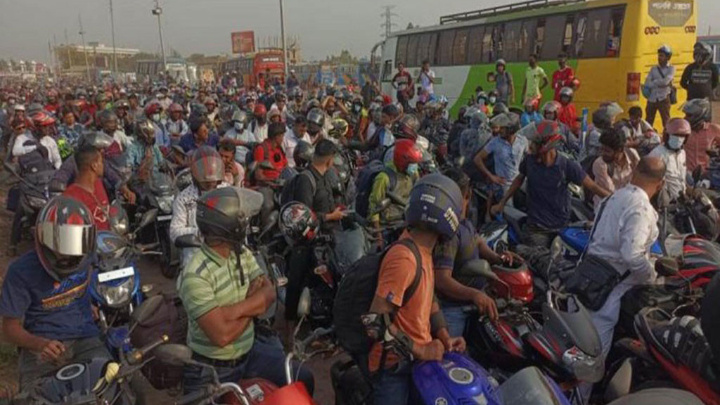 A helmet policy framework is being prepared for Bangladesh to reduce fatal road accidents involving motorcycles.
A working group led by Brac has drafted recommendations for setting the motorcycle helmet standards. Sub-standard helmets will not be allowed once the government approves the policy.
A workshop on the policy framework will be held today at the headquarters of the Bangladesh Road Transport Authority (BRTA). All stakeholders. including bureaucrats, police and experts on road safety, will attend the workshop.
"We will submit the final policy framework immediately to the government after incorporating all the suggestions received from the workshop," said Ahmed Najmul Hussain, director (road safety) of Brac.
"We recommended a UN-standard helmet for Bangladesh, which is not very expensive," he told Dhaka Tribune.
Bikers in Bangladesh mostly choose cheap helmets as their main aim is to avoid violating traffic rules rather than protect themselves.
Tuhin Abdullah, a delivery person of a private company, said: "I have no idea about helmets. I think no helmet is comfortable for us in warm weather. I put it on to obey traffic rules."
Zakir Hossain and his child both wear plastic helmets that give little protection. When asked about the helmets, he said their helmets are stolen frequently so they choose ones that are easily replaceable.
The plastic helmets cost about Tk600. According to the draft policy, the price of UN standard helmets ranges from $12-20 (Tk1,120-1,870).
"I bought my helmet for Tk1,500 but don't know whether it is to standard or not. There are no instructions from the authorities either. So, I use what I find affordable to me," said Rafiqul Islam, a driver for Pathao.
He claimed ride-sharing companies provide their bikers with sub-standard helmets.
According to the BRTA, there are 3.6 million motorcycles in the country, including about one million bikers in Dhaka. Only 2.3 million of the motorcycle riders have driving licences.
A recent survey by the Accident Research Institute (ARI) of Buet found that only 10% of motorcycle riders and 2% of pillion passengers use high-quality helmets.
About 7% of accidents take place in Dhaka, and 93% outside the capital. Deaths and injuries are higher in rural areas, according to ARI.
A total of 1,168 people died in motorcycle accidents across the country in 2021, which was 1,097 in 2020, it said. During the Eid-ul-Fitr vacation, motorcycle accidents outnumbered other vehicles.
"A quality helmet is very important as it can reduce death risk by 40%" said Hadiuzzaman.
What is the solution?
The Road Transport Act 2018 requires drivers and passengers to wear helmets properly, but does not specify the meaning of "proper".
The new policy will define proper use of helmets and the execution process.
"The policy on helmets will help to enact the Road Transport Act as it will describe the proper use of helmets and its standard. Following the policy, law enforcers can also take necessary steps to ensure use of standard helmets," said Sk Md Mahbub-E-Rabbani, director (road safety) of the BRTA.
"Now, most bikers and pillion passengers use helmets in Dhaka. However, many of them use sub-standard helmets. We are trying to encourage them to use quality helmets," said Md Munibur Rahman, DMP additional commissioner for traffic.
"The Bangladesh Standards and Testing Institution (BSTI) has a standard for helmets but they do not have a lab to test the helmets. They have a shortage of experts for testing helmets as well," said Prof Hadiuzzaman, director of ARI at Buet.
"The BSTI should establish a helmet testing lab to prevent import of sub-standard helmets as a standard helmet can reduce the fatality," he added.
All developed countries across the world as well as neighbouring India, Sri Lanka and Pakistan have their own helmet testing laboratories.
The BSTI has decided to start testing helmets at private testing labs until the government laboratory is established, said a senior official.
Currently, 166 products are under the compulsory certification marks scheme of the BSTI, meaning that marketing of any of these items needs conformity certificates from the institute.
Dhaka Tribune