Who is your club's record scorer and who might be next?
Published: 2/7/2023 9:56:59 AM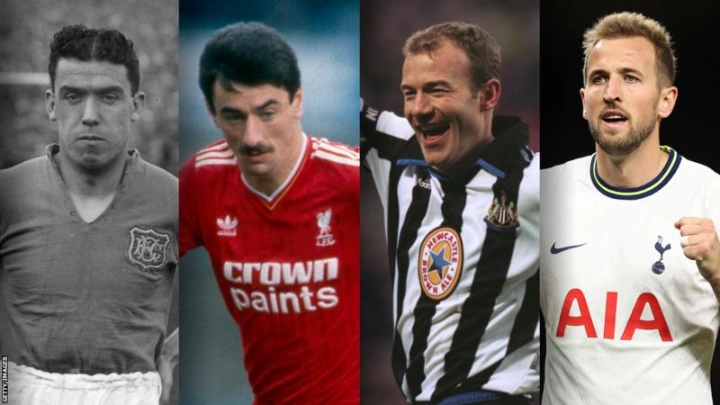 Dixie Dean (left), Ian Rush (centre left), Alan Shearer (centre right) and Harry Kane (right) are four of the most prolific goalscorers in English top-flight history
A club's all-time goalscoring record is one of the most significant milestones on its honours list, often receiving the most attention when it is broken.
Some such records have stood for more than 100 years, while a handful have been broken this century, with Harry Kane the latest man to carve his name into his club's history.
On Sunday, the 29-year-old scored his 267th Tottenham goal in the win over Manchester City, taking him past the tally of fellow England forward Jimmy Greaves.
But what of the rest of the English top-flight clubs and their all-time scoring record? Which players currently hold them, how close are they to being broken and who might become new record holders?
As reported in the Times recently, discrepancies are a pitfall when discussing the subject of club record goalscorers, partly as a result of the Football Association not keeping complete official records.
We are, therefore, reliant on other sources to provide us with the stats, chiefly the clubs themselves and unofficial authorities such as the English National Football Archive.
This brings up an issue with Greaves' goal tally, which Spurs set at 266 but did not include his two scored in Charity (now called Community) Shield matches.
In comparison, the 253 goals netted by Wayne Rooney and recognised as the Manchester United goalscoring record do include those in Charity/Community Shield games (he scored one), as do the records of Frank Lampard with a Chelsea high of 211 (one), Ian Rush's Liverpool best of 346 (three) and others.
For the purposes of this piece and consistency with our reporting on Kane, we are sticking to Spurs' interpretation of the record.

Current Premier League clubs' record goalscorer - from longest held
Club
Player
Goals
Games
Held since
Nottingham Forest
Grenville Morris
217
459
January 1903
Brighton
Tommy Cook
123
209
December 1924
West Ham
Vic Watson
326
505
August 1925
Bournemouth
Ronnie Eyre
229
628
December 1925
Leicester
Arthur Chandler
273
419
January 1926
Everton
Dixie Dean
383
433
April 1928
Crystal Palace
Peter Simpson
165
195
January 1931
Aston Villa
Billy Walker
244
531
November 1932
Brentford
Jim Towers
163
282
October 1959
Leeds
Peter Lorimer
238
707
March 1973
Southampton
Mick Channon
228
602
September 1976
Fulham
Gordon Davies
178
450
February 1989
Wolves
Steve Bull
306
561
March 1992
Liverpool
Ian Rush
346
660
October 1992
Arsenal
Thierry Henry
228
376
October 2005
Newcastle
Alan Shearer
206
405
March 2006
Chelsea
Frank Lampard
211
648
May 2013
Manchester United
Wayne Rooney
253
559
January 2017
Manchester City
Sergio Aguero
260
390
November 2017
Tottenham
Harry Kane
267
416
February 2023
As you can see from the dates on the above records, a player becoming their club's all-time goalscorer is a rare accomplishment and even more so in the transient, uneven world of modern football.
Only six of the men who currently hold a Premier League club's top tally achieved it this century, with eight records having stood since before the start of World War Two.
It is no mystery as to why this is the case. In general, players simply do not stay at clubs as long as they once did, especially those of high goalscoring calibre playing outside the division's 'big six' clubs.
Interestingly but not surprisingly, five of the six records broken this century have come at one of Premier League's established elite sides - those with the clout and financial muscle to hold on to the best strikers for a prolonged period.
There will, of course, always be exceptions. Alan Shearer - the one man to break a non-'big six' club goalscoring record this century - moved to and stayed at Newcastle because of his personal affinity to his hometown club.
And who's to say such a relationship between an elite player and club won't arise again? Or that the career trajectory of an individual and team do not sync up perfectly, with the former scoring the goals that help fire the latter into the top-flight just in time for him to break their goals record?
In all likelihood, though, many of the current Premier League club goalscoring records are unlikely to be beaten.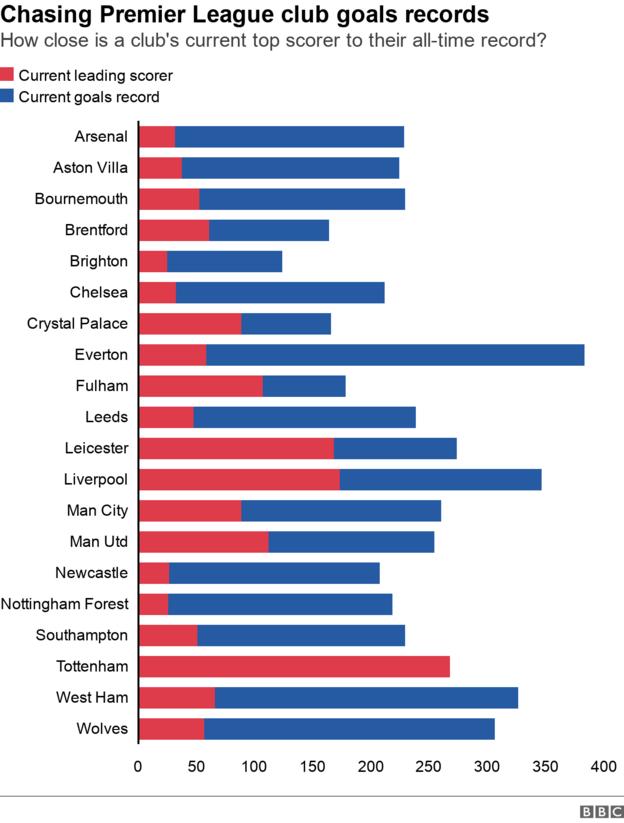 As you can see above, few clubs have a current top goalscorer anywhere close to challenging their all-time goals record.
Fulham are the closest to having a new record scorer, but Aleksandar Mitrovic still has 71 goals to score to match the tally of Gordon Davies. Mitrovic is 28 years old and so the clock is ticking.
Liverpool's Mohamed Salah and Jamie Vardy at Leicester have healthy totals to their name, but with the sizable respective records of Ian Rush and Arthur Chandler to chase down and, again, age not on their side, a change of ownership for the club record looks highly unlikely.
And spare a thought for Dominic Calvert-Lewin (or indeed any Everton player present or future), who has the toughest challenge in the top flight to beat the all-time Toffees record of Dixie Dean.
Even if the 25-year-old plays for another decade (including this season), he would need to average around 32 goals a campaign to get close to Dean's 383. He's only managed double figures twice so far in his career.
So which players have a better chance of breaking their current club's all-time goalscoring record?
The criteria are fairly obvious - they must have demonstrable talent and time on their side.
A certain amount of educated guesswork is required - with some players needing a much bigger leap of faith than others - but below are the players best placed to have a go at breaking their current club's record and what they would need to do to achieve it.
We've given each of the players until the season in which they turn 35 years old to reach the number required.

Potential Premier League club record goalscorers
Team
Player
Club goals
Current club record
Avg goals per season required
Arsenal
Eddie Nketiah
32
228
15.08
Aston Villa
Ollie Watkins
33
227
21.55
Bournemouth
Dominic Solanke
53
229
16
Brentford
Ivan Toney
61
163
11.33
Brighton
Alexis Mac Allister
15
123
9
Chelsea
Kai Havertz
29
211
14
Crystal Palace
Wilfried Zaha
89
165
12.67
Everton
Dominic Calvert-Lewin
59
383
32.4
Fulham
Aleksandar Mitrovic
107
178
8.88
Leeds
Patrick Bamford
48
238
26.57
Leicester
Patson Daka
14
273
21.58
Liverpool
Mohamed Salah
173
346
28.83
Manchester City
Erling Haaland
31
260
16.36
Manchester United
Marcus Rashford
112
253
12.82
Newcastle
Miguel Almiron
23
206
26.14
Nottingham Forest
Brennan Johnson
26
217
12.73
Southampton
Che Adams
29
229
20
Tottenham
Harry Kane
267
267
NA
West Ham
Jarrod Bowen
34
326
24.33
Wolves
Daniel Podence
15
306
32.33
As you can see, some of the suggestions are in with a shot (fitness permitting), some have some serious work to do and others are just wishful thinking.
Haaland is worthy of further investigation, though.
His 31 goals for Manchester City have come in just 26 games. If he carries on at this rate, he should score the 230 goals he needs to surpass Sergio Aguero's record of 260 in roughly 193 games.
Even if Haaland only plays in 40 games a campaign, he would become City's record goalscorer about 10 games into the 2027-28 season. He'll be 27 years old.
Rashford is another to mention off the back of a recent hot streak in front of goal that has seen him net 10 goals in as many games since the World Cup in Qatar.
He still has 141 goals to score to reach Rooney's Manchester United goals record but at 25 he still has time on his side and presumably little inclination to leave his hometown club anytime soon.
As for Kane, since properly establishing himself in the Tottenham side in 2014-15, he has averaged 30 goals a season in his completed campaigns to date.
If (and granted it is a big if) he matches this tally in every season until he reaches the one in which he is 35, the next player who wants to break the Spurs goalscoring record would need to net a whopping 458 goals!
There's a very good chance that Kane may also take another record from Greaves if he manages such a haul - by surpassing the 1966 World Cup winner's overall English top-flight goals tally of 357.