Salman Khan and Shah Rukh Khan have spoken for the first time about their Pathaan union that has created history at the box office.
Salman Khan, Shah Rukh Khan speak about their Pathaan union; SRK says 'I'm keeping Tiger's scarf as memento'
Published: 2/6/2023 8:05:57 AM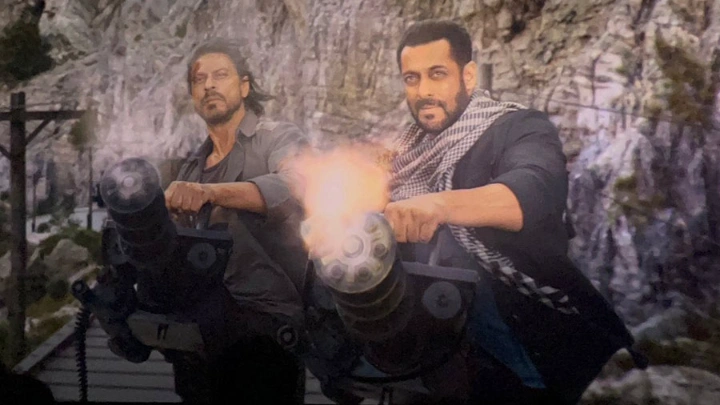 Yash Raj Films' Pathaan is now an all-time historic blockbuster - the biggest grossing in Hindi film history and audiences have loved how the YRF Spy Universe got two super-spies Salman Khan as Tiger and Shah Rukh Khan as Pathaan in the film!
Shah Rukh Khan and Salman speak up for the first time about how thrilled they were to be back on screen, how Aditya Chopra floored them with the concept for their reunion to happen and how brilliantly Siddharth Anand directed and presented them with unforgettable swag!
Salman Khan on Pathaan union with Shah Rukh Khan
Salman Khan says, "For Shah Rukh and I to come together on the big screen, it always needed a special film and I'm glad Pathaan is that film. When we did Karan Arjun, it was a blockbuster and now, Pathaan, which is part of YRF's Spy Universe, has also turned out to be a blockbuster. I'm aware that audiences love to see us together on screen and I'm happy that they have given us so much love in Pathaan. I was floored when Adi narrated the sequence to me and told me about his vision to bring us together on screen again."
He adds, "His (Adi's) intention was to play to the gallery and give our fans and audiences what they wanted to see from us. Given how closely Adi has known Shah Rukh and me, he truly managed to capture how we are as personalities in the scenes. This is why people are loving us on screen. Also the way Sidharth executed the sequence and presented us was just brilliant. I'm happy for Shah Rukh and YRF for all the records that Pathaan is achieving. It is a huge win for Indian cinema that we are able to bring people back to the theatres after the pandemic."
Shah Rukh Khan and Salman Khan always wanted to act together but waited for the right script
Shah Rukh says, "Trust me when I say this, Salman and I have always wanted to act together but we were waiting for the right film, the right script because we both knew that there would be incredible excitement to see us on screen but we would have to deliver that promise to audiences because they love us so much. If not, they would be mighty dejected and it wouldn't work for the project. Matlab fans ka sawaal hai, choti script pe nahi chodh sakte types!!"
He adds, "So, when Adi told me about the idea to bring the two super spies from YRF's Spy Universe, Tiger and Pathaan, together to do some kick-ass action scenes, which I'm hoping many people have seen by now, I instantly jumped at it because this idea was delivering the promise of seeing Salman and I on the big screen. I'm delighted that people have loved seeing us together in Pathaan."
Shah Rukh Khan reveals he is keeping Tiger's scarf as a memento
SRK further says, "I know it was a long wait for fans to see us like this on screen and I'm glad that we have delivered a film that they are thoroughly enjoying. Besides this it's too much fun with Bhai on sets. I had missed being with him on screen so it all turned out as it should…and that Tiger scarf I am keeping as a memento!!"