Lionel Messi is Mr. Reliable! PSG winners, losers & ratings as Argentina star steps up with Mbappe & Neymar out
Published: 2/5/2023 5:01:00 AM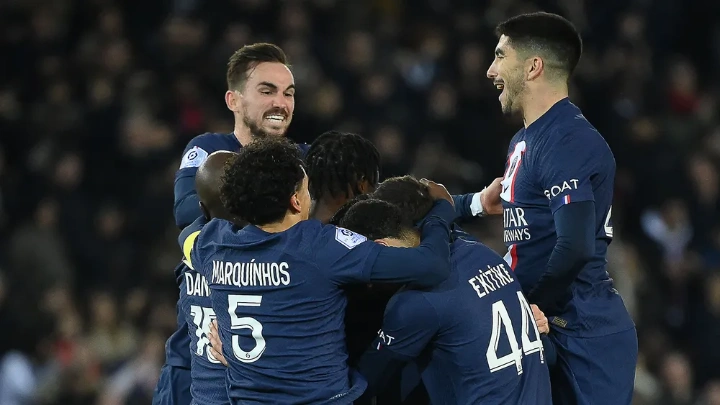 Lionel Messi scored a second-half winner against Toulouse on Saturday to lift the Ligue 1 leaders in the absence of Neymar and Kylian Mbappe.
Lionel Messi lurked for most of Paris Saint-Germain's contest against Toulouse. He floated around, enjoyed a few touches, and served as an unnerving presence, more a warning than an attacking threat.
But then, he came to life. As he always does. With PSG locked at 1-1 with the mid-table side, Messi drifted towards the top of the box, and whipped a loose ball into the bottom corner.
Messi has scored that goal countless times. And on this occasion, it lifted PSG to a vital Ligue 1 win.
Toulouse took the lead inside 20 minutes, with Branco van den Boomen sweeping a free kick past a wrong-footed Gianluigi Donnarumma.
PSG struggled for a creative spark in the fitness-related absence of Neymar and Kylian Mbappe, with Lionel Messi a peripheral figure in the early goings. Achraf Hakimi provided a moment of magic, though, firing into the bottom corner from 20 yards out to equalise.
Things changed in the second half, with Messi inevitably popping up with the goal to put his side ahead. Hakimi laid the ball off to the World Cup winner just outside the box, who curled his shot past a helpless goalkeeper.
Toulouse had one clear chance late on, but Donnarumma equaled a scrappy effort after a scramble in the box. And it was all about Messi in the end, the Argentine stepping up in the absence of Mbappe and Neymar, dragging PSG to the finish line.
The Winners
Achraf Hakimi:
On a day where PSG lacked creativity from their attacking players, Hakimi stepped up. He scored PSG's equaliser, cutting onto his weaker left foot before curling his effort into the far corner. Hakimi often found himself the furthest man forward, pushing down the right wing and stretching the Toulouse back-line. It was never likely to be a tricky defensive game for the Morocco international, and he made sure to impact play at the other end.
Lionel Messi:
Inevitable, wasn't it? Everything seemed primed for one of those games for Messi. Neymar and Mbappe out, the team struggling to create, a dogged defensive opponent. And so it continued, with Toulouse keeping Messi quiet for long stretches. The goal, predictably, came. It was a vintage Messi strike, curled into the far corner from just outside the box, with no space to work with. The World Cup winner had little further impact on the game, but it didn't really matter. Their Argentine magician had done it. What a player.
Warren Zaire-Emery:
Rarely is a player so young so composed. Zaire-Emery became PSG's second-youngest ever Ligue 1 scorer with a calm finish midweek, and he built on that on Saturday. Yes, PSG have midfield injury problems. But the 16-year-old Zaire Emery was brought on for the misfiring Carlos Soler with 15 minutes remaining in a tight game — a clear indication of his manager's trust. This wasn't a flawless performance from the youngster - he looked a bit lost in more advanced positions - but every minute on the pitch is crucial for a player who looks increasingly ready to fulfil his potential as one of the world's best teenagers.
The Losers
Renato Sanches:
PSG manager Christophe Galtier really seems to like Sanches. The Portuguese midfielder played under him at Lille last year, and he's started to show signs of the midfielder many expected him to be when he burst onto the scene as a teenager. His PSG career, though, has been marred by time spent on the sidelines. The injury bug reared its head again on Saturday. Sanches seemed to clutch his thigh and was in tears as he walked off the pitch after just 11 minutes. At the very least, it's encouraging that Sanches could help himself off. But he could face more time off the pitch.
Carlos Soler:
In a way, Soler is tasked with a near impossible job. Although PSG change their style without Neymar, Soler is asked to do a similar thing: make runs forward and create in the final third. The issue is, Soler is not Neymar. Galtier, of course, knows this. But the expectation that the Spaniard should make something happen seems to weigh on him. Soler frequently tries to do too much, and some of his quality in the final third is lacking. He was better Saturday than sometimes in the recent past, especially when the game became more stretched. But in the early goings, Soler looked like a weak link. He has been agreeable, if unspectacular, since coming into the side due to a litany of injuries. The dropoff from any of PSG's front three to Soler is glaring, though.
PSG Ratings: Defence
Gianluigi Donnarumma (6/10):
Wrong footed for Toulouse's opener, but redeemed himself with an impressive save late on.
Achraf Hakimi (8/10):
A memorable showing. Scored the first and assisted the second, and was often the furthest PSG player forward.
Marquinhos (7/10):
Some nice blocks, reliable passes.
Danilo Pereira (6/10):
Solid at the back, even better when moved to the no.6
Nuno Mendes (5/10):
Still working his way back to full fitness. Could've been sent off for a rash challenge when already on a yellow.
Midfield
Carlos Soler (6/10):
Fine, but not Neymar. Which is tricky when you're supposed to be doing the stuff that Neymar does.
Renato Sanches (5/10):
Substituted within the first 15 minutes. Another injury blow for a player who just can't seem to stay fit.
Fabian Ruiz (5/10):
Followed a masterclass with an anonymous showing. A thoroughly strange footballer.
Vitinha (6/10):
Offered much-needed energy, got into the box quite a bit.
Attack
Lionel Messi (9/10):
Anonymous, then masterful. Messi did a Messi.
Hugo Ekitike (6/10):
Showed some signs of life early, then tried to force things. He will have better nights, especially as he grows into the side.
Subs & Manager
E.C. Bitshiabu (6/10):
Came on for the injured Sanches and immediately gave up the foul that led to Toulouse's opener. Settled down after.
Juan Bernat (6/10):
Replaced Mendes, did well.
Warren Zaire-Emery (7/10):
Another lively cameo. Looks like he could be a fantastic player someday.
Ismael Gharbi (N/A):
Got a run out.
Christophe Galtier (7/10):
Started Sanches at the base of the midfield but soon had to switch things thanks to yet another injury. Still, shuffled things around and relied on his star man to get a result. PSG haven't been entirely convincing since the World Cup, but wins are wins.