BNP's programme is softening: Quader
Shining BD Desk || Shining BD
Published: 2/2/2023 5:18:09 AM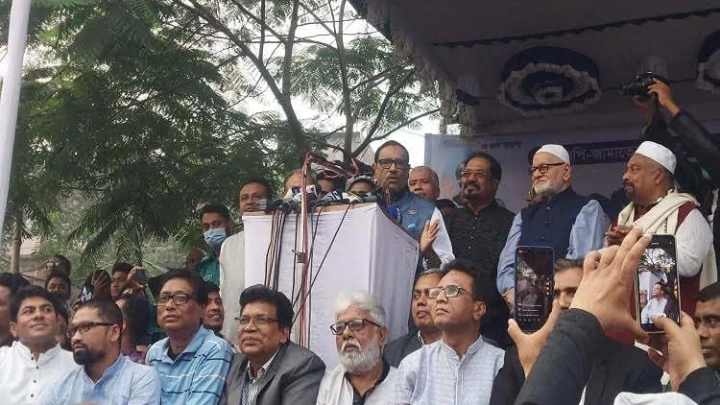 The BNP's movement is getting softer from hot, while the government is not afraid of it but the party itself is afraid, Awami League (AL) General Secretary Obaidul Quader said, adding: "We are not panicked or afraid of their road march. BNP's programme is softening and their world is getting smaller."
"BNP is a pathless passerby," he said, "but we are yet to start our game. BNP's movement for falling the government and its demand for caretaker government are fake ones."
He made the remarks on Wednesday while speaking at a rally, organised by the Dhaka South City AL, at Jatrabari intersection here protesting the BNP-Jamaat's terror acts and anarchy.
The AL general secretary said BNP secretary general Mirza Fakhrul Islam Alamgir went to show red card to the government but returned empty handed.
"Movement for ousting the government, 54 parties, 27 and 10 points, caretaker government are all fake," he said.
Chaired by Dhaka South City AL President Abu Ahmed Mannafi, the rally was addressed, among others, by AL Presidium Member Advocate Quamrul Islam, Joint General Secretary Mahbubul Alam Hanif, Organising Secretaries Mirza Azam and Sujit Roy Nandi and Dhaka South City AL General Secretary Humayun Kabir.
Quamrul said BNP deceived the country's people time and again and that is why they do not trust the party anymore.
"There will be no result by trying to halt the next general elections," he said, adding that the people would once again make Awami League victorious and eliminate the murderers of 1971.
Hanif said the BNP's only aim is to grab the state power by destabilising the country. The BNP will never get the support of voters and that is why it is again indulged in conspiracy, he added.
Source: BSS