Militant outfits active ahead of next JS polls
Shining BD Desk || Shining BD
Published: 1/29/2023 7:34:16 AM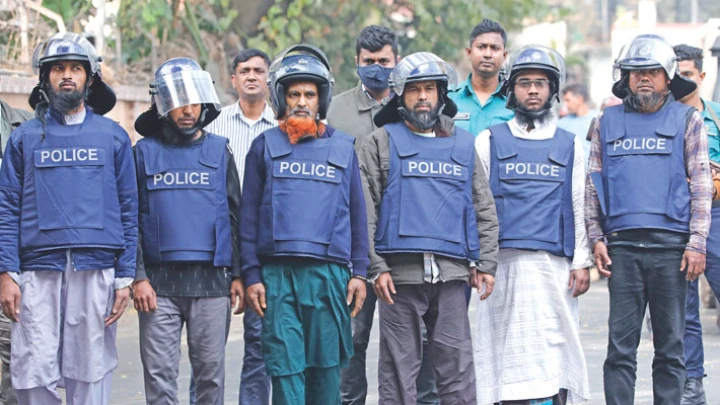 Police arrested six members of the banned militant outfit Harkat-ul-Jihad (Huji) from different parts of the capital on Friday. The arrestees were produced before the journalists at the DMP media centre in the capital on Saturday. – sun photo
Members of different militant outfits have engaged in various activities to volatile the law and order in the country over the next general election.
The militant groups include Harkat-ul-Jihad-al Islami Bangladesh (Huji-B) and Jama'atul Ansar Fil Hindal Sharqiya which have link with the Al-Qaeda and other international terrorist organisations.
As part of their blueprint, the leaders and activists of the militant groups are trying to reorganise themselves secretly.
Detective sources said leaders of the militant organisations are using different online platforms in fear of police arrest.
They are motivating youths, including boys of different schools, colleges and universities, to get involved in militancy.
Law enforcers have got the information as some arrested militant leaders gave their confessional statements during interrogation.
The militant kingpins have recently been arrested in Dhaka and Cox's Bazar.
The counterterrorism unit of police arrested six members of Harkat-ul-Jihad-al Islami Bangladesh (Huji-B) in different areas of the capital on Friday.
The arrestees are Fakhrul Islam, 58, his son Saiful Islam, 24, Suruzzaman, 45, Abdullah Al Mamun, 23, Din Islam, 25, and Abdullah Al Mamun, 46.
Police also found videos on how to make bombs in their mobile phones, Md Asaduzzaman, chief of Counter Terrorism and Transnational Crime unit, told journalists at a press briefing on Saturday.
Once a security guard at a madrasa in Gazipur, Fakhrul went to Pakistan in 1988 where he met a Bangladeshi born Al-Qaeda commander Mufti Jakir Hossain.
Along with him, Fakhrul went to Afghanistan and took training on arms. He then met Al-Qaeda leader Mullah Omar and Osama bin Laden, CTTC officials said.
Fakhrul returned to Bangladesh in 1998.
As several Huji-B leaders, including Mufti Hannan, have been executed, Fakhrul has been collecting new members, collecting money and conducting activities through social media to continue the militant activities.
Fakhrul and his son Saiful along with other Huji members donated a huge amount of money to Rohingyas in Cox's Bazar camps for the purpose of recruiting them to their outfit.
The arrestees admitted that they used to use secret and encrypted apps to communicate among themselves and share extremism provoking contents, including bomb making manuals and videos.
Four days ago, Rapid Action Battalion (RAB) conducted a raid on Kutupalong Rohingya camp in Ukhia of Cox's Bazar and arrested top leaders of a militant organisation after a shootout.
RAB said that Masikur Rahman Masud alias Ranbir, head of the military wing and Shura member of Jama'atul Ansar Fil Hindal Sharqiya, and bomb expert Abu Bashar were arrested along with arms and ammunition.
In addition, three magazines, 112 rounds of bullets and more than two and a half lakhs in cash were recovered.
Commander Khandaker Al Moin, director of Legal and Media Wing at the RAB headquarters, said during the operations, Ranbir and Bashar tried to escape from the camp, but RAB members arrested the duo.
Commander Moin said RAB published a list of 55 people who were taking training in the name of so-called Hijrat, leaving their homes and taking shelter in the mountains. The name of arrested Bashar was in that list.
According to the initial interrogation, Bashar said that after the joint operation of RAB and other law enforcers started on October 3, he separated from the group of 55 people and fled from the mountains to Sylhet and took shelter to Ranbir. They both hid in the Rohingya camp a few days ago, thinking it was safe.
Finally, their motive behind mysterious missing from the homes published after one of their alleged mastermind a doctor Shakir Bin Wali was arrested by members of the counter terrorism unit police.
Police said the arrested doctor has motivated the youths towards militancy.
Being motivated by him (the doctor) these youths, all are students of school and college went missing and joined the banned militant outfit ' Ansar-al-Islam, police said.
Shakir used to recruit members for the militant outfit from different parts of the country and organise military training.
Source: Daily Sun