AL leaders, supporters gathering at Rajshahi rally venue
Shining BD Desk || Shining BD
Published: 1/29/2023 6:09:41 AM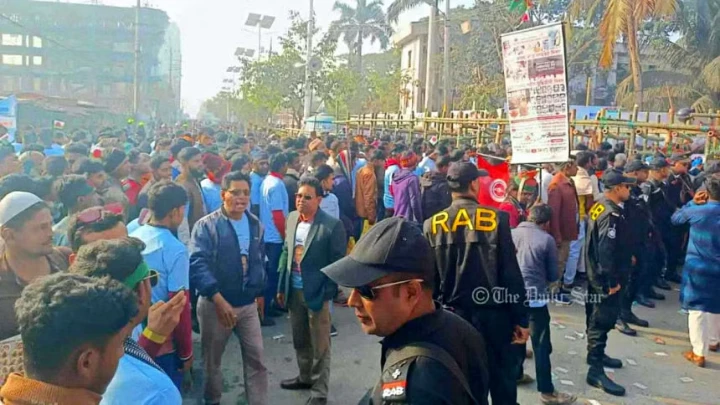 Awami League leaders and activists have been heading to the Madrasa Maidan in Rajshahi since 6:00am to join the party's rally today.
Supporters, activists and leaders of the party, chanting party slogans, also brought out processions from key points of the city this morning to go to the rally venue, reports our Rajshahi correspondent.
Many people came to the rally venue wearing T-shirts and caps distributed by the ruling party. People in the processions were heard saying that they wanted to catch a glimpse of Awami League President and Prime Minister Sheikh Hasina, and to hear about her plans for the country.
All three entrances to the rally venue have been opened.
The PM will deliver her speech at the rally at 3:00pm.
Rajshahi is all set to welcome Prime Minister Sheikh Hasina today for her first public rally in the district in five years.
Following a month-long preparation for the programme, a 5,000sqft stage has been set up, with a black boat as the base and white scaffolding on top, at the Madrasa Maidan in Rajshahi, now known as Haji Muhammad Mohsin Government High School ground.
Apart from buses and trucks, the AL hired at least seven local trains. The trains, with a total of 10,306 seats, were hired for Tk 1,290,007, Ashim Kumar Talukhder, general manager of Bangladesh Railway (west zone), told The Daily Star yesterday.
Leaders and activists of Awami League are expecting 5 to 7 lakh people to attend the rally.
Changes have been made to the traffic system, with one lane to be dedicated to accommodate buses and trucks carrying party supporters.
Hasina will visit Bangladesh Police Academy in Sardah to attend the passing out of 38th BCS Cadre apprentice assistant superintendents of police.
After that, she will address the rally in the afternoon.
Source: The Daily Star