At least 83% of advance train tickets of Eid-ul-Azha sold out in two and a half hours
Shining BD Desk || Shining BD
Published: 7/3/2022 6:27:03 AM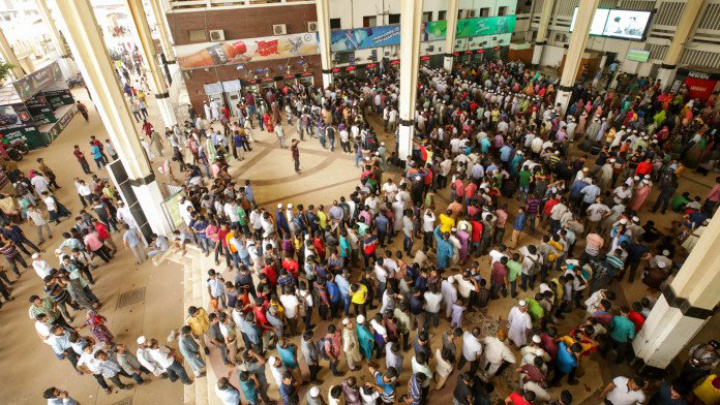 At least 83% of advance train tickets on the occasion of the upcoming Eid-ul-Azha sold out in two and a half hours on Sunday morning.
The sale of advance train tickets for July 7 started in Kamalapur Railway Station on the third day from 8am to 6:30pm, but most of the people who are still in line will not likely get tickets.
Like the first and second days, thousands of ticket seekers gathered at the capital's Kamalapur station to buy advance train tickets for Eid-ul-Azha.
Farhad Ahmed, public relations manager at Bangladesh Railway's ticketing partner Shohoz-Synesis-Vincen JV, said 13,000 of the 14,086 online tickets and 10,000 of the 14,600 offline tickets have already been sold.
Although most of the tickets have been sold out, there are still crowds of ticket seekers at Kamalapur station and suburban platforms.
Those who stood in line for the first two days but did not get tickets are also standing in line on Sunday.
Waiting in line, Saiful Amin said: "I have been staying here since morning for tickets. If I still don't get a ticket, I have to stay in this line again tomorrow (Monday)."
The ticket seekers said that most of the aspirants are interested in getting train tickets to avoid road congestion and travel safer. They have come to collect train tickets beforehand to avoid the suffering of the journey.
Train tickets are on sale from Friday for July 5, Saturday for July 6 and Sunday for July 7.
On Monday, train tickets for July 8 will be given and on Tuesday, train tickets for July 9 will be given. In addition, return tickets will go on sale from July 7.
Dhaka Tribune