Flood situation in Sunamganj improves somewhat due to declining slope and rainfall
Shining BD Desk || Shining BD
Published: 7/3/2022 5:43:31 AM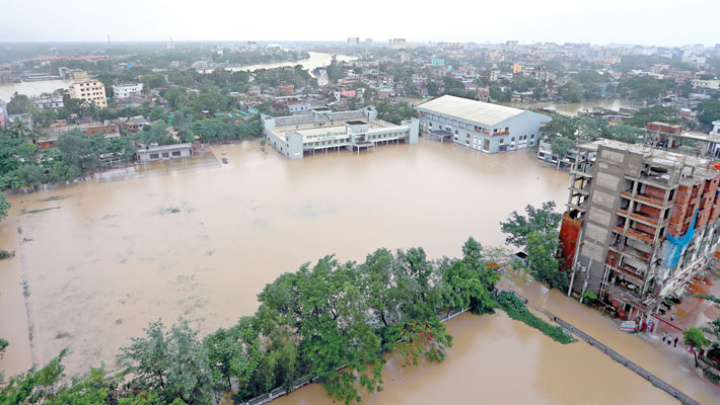 The flood situation in Sunamganj has improved somewhat due to the declining slope and rainfall.
Water is flowing slowly from the lower reaches of Chhatak, Dowrabazar, Bishwambarpur and Jamalganj upazilas, reports Bangla Tribune.
However, the suffering of the people has not been reduced yet. They are moving at risk as the roads are destroyed due to the floods.
The waters of the main rivers of the district, including Surma, Boulai Jadukata and Cholti Rakti, have started receding. However, there are flood waters in several residential areas including Shantibagh, Sultanpur, Pathanbari Kalipur in the lower part of the city.
Meanwhile, military and civilian agencies have distributed relief items in the affected areas. Many residents are still living in shelters as there is water in their damaged houses.
Zahurul Islam, executive engineer of the Water Development Board, said the water of the Surma River at Sholghar point in Sunamganj was flowing 40cm below the danger level.
"There has been no rain in the last 24 hours. If it doesn't rain again, the situation will improve faster," he added.
Dhaka Tribune