Given Bangladesh's social-economic realities, is it rational to run a 'Buy Now, Pay Later' (BNPL) model in our country?
How is the Bangladesh market responding to digital credit?
Nusrat Jahan Labonnayo, TBS || Shining BD
Published: 1/25/2023 5:42:32 AM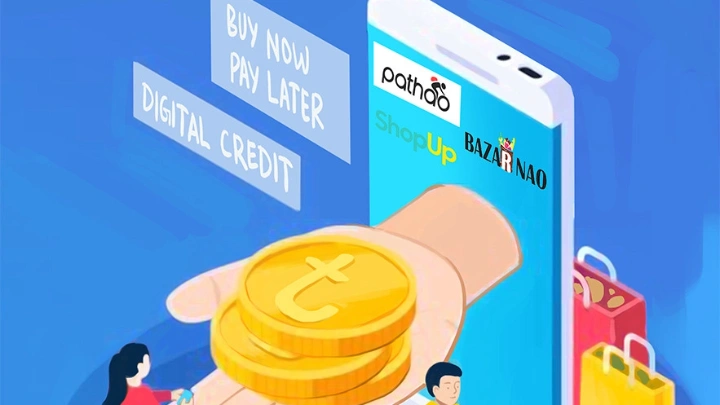 Saleem Hasnain is a government employee living on a modest salary. With rising commodity prices, he often has to rely on the mercy of the vendors to loan him some groceries, to be repaid once he gets the next paycheck. This has become an everyday reality for thousands of middle-class families like his who live paycheck-to-paycheck.
But what if they could avail some sort of credit facility, sparing them of the embarrassment at the hands of the grocer? And no, your local loan sharks are not the solution. Buying products from digital services on credit, however, can be.
Startups like Pathao, Bazar Nao and ShopUp have pursued this approach of bringing credit options onto digital service platforms. This is not only helping the end customers but also retailers to stock products on credit. However, given Bangladesh's social-economic realities, is it rational to run a 'Buy Now, Pay Later' (BNPL) model in our country?
The 'Pay Later' services essentially allow you to defer your purchases for a week or a month without incurring additional costs (or, in some cases, very little interest). They also allow partial payment opportunities so that you can pay off the debt on your own time (although generally within a certain time frame of one to two months).
International digital platforms that have adopted this feature charge little to no interest. With minimum collateral, you get easy access to credit for food, rides and other commodities. In other countries, a fintech organisation usually lends you the money to purchase from selected shops like Klarna, Affirm, Four etc. In contrast, we see the service directly incorporated with the app in our country.
Bangladesh is one of the most underpenetrated markets for consumer credit in Asia, where only about 1% of the population own a credit card. However, over 25 million urban millennials live in the largest cities. They have rising incomes and are rapidly moving their spending online. In effect, Bangladesh has immense potential to incorporate credit services on digital platforms.
It is encouraging to see that bKash, Nagad and other DFS platforms are beginning to offer small loans to their users, to take small loans from designated banks or directly from the platforms.
Bkash and City Bank jointly launched the country's first collateral-free, instant 'Digital Nano Loan' after the successful completion of a year-long pilot project under the supervision of Bangladesh Bank. Eligible bKash users can apply for a loan ranging from Tk500 to Tk20,000 through the bKash app, receive the disbursement into their bKash account instantly and repay the loan through bKash in three monthly instalments (EMI).
"Bkash is working relentlessly to bring innovative digital financial services. Launching digital nano loans with banks was one of them. This ground-breaking initiative has enabled customers, especially the unbanked population, to access formal financing 24/7 through mobile wallets.
The loan can be availed through a digital credit assessment and help users avoid the hassles of the traditional process," said Shamsuddin Haider Dalim, Head of Corporate Communication, Bkash, adding, "More innovative services like this will be included in future to make the digital lifestyle easier."
It is yet unclear how these digital credit services might affect borrowers and markets due to how few loans have been disbursed and the unavailability of performance data. So to allay our confusion, we got in touch with Pathao and Bazar Nao, who have incorporated this process into their business strategy.
Bazar Nao is an online grocery shopping site established by Swapon Kumar Dey in March 2020. They introduced pay-later services of up to Tk500 for their groceries and got a great response from their customers even during the pandemic. Moreover, the consumers could purchase more on credit on subsequent orders, given that they had paid the previous credit off. However, the first-order credit purchase option is no longer available since many people misuse this opportunity.
"We have faced a few challenges while operating under the previous business plan, as a few people were exploiting the facility. To avoid this problem, we decided to keep the credit option open but only for our loyal clients," said Sonot Kumar Ghoush, Finance Manager, Bazar Nao.
Bazar Nao's operation is currently limited to Dhaka, with three warehouses. They currently have over 3,000 registered users and serve over 20,000 customers. Even though the first-time credit option is no longer offered, they allow customers to unlock the pay later feature by demonstrating their reliability for three months.
"We take NID information only and don't charge any interest for the credit service. The online grocery market is now becoming more fragmented due to heavy competition. Still, due to our differentiated credit service, customers who once took our service tend to stick with us," said Sonot.
Bazar Nao has a clear set of service policies. If anyone tries to manipulate it, it is possible to reach them, given the information on NID and other identification variables. Furthermore, they also deal with retailers to act as a middle party, where retailers can also get supplies on credit. This system is similar to ShopUp's venture 'Baki'.
Swapon Kumar Dey, Managing Director, Bazar Nao said, "The young job holders who are responsible for managing their family are specifically drawn to this service because it is very obvious they face budget issues at the end or beginning of the month, given how costly it is to lead a decent lifestyle in Dhaka."
"I believe this grocery lending system can create a great social impact by easing people's lives," he added.
This strategy aims to make access to credit in small amounts easier. As it is based on digital payments, it is quite informal.
In the case of Pathao, one of the strongest digital service providers in the country, the newly initiated 'Pay Later' system is working well so far.
"The majority of Pathao's user base (over 8 million) consists of urban students and young professionals. Given their limited income, they can sometimes be too cash constrained to order food or take rides as they have to wait for their allowances. We are uniquely positioned to cater to the unaddressed need for consumer credit among this user base," said Fahim Ahmed, CEO of Pathao.
Using Pathao's Pay Later option, users can subscribe to a 15-day revolving spending limit that ranges between Tk1,000 and Tk8,000. Repayment is due within 30 days from the end of the cycle.
To avoid fraudulent activities, Pathao uses its advanced data science and engineering capabilities to select the users who are offered subscriptions, set the initial spending limit, reassess the limit periodically and mitigate against risks of fraudulent activities.
"We also charge users for late payments and suspend users from the platform for non-payment of dues. This has enabled us to maintain very low default rates," shared Fahim.
Fahim further shared that the introduction of Pay Later has had a notable positive impact on Pathao's business. They have seen a 35% increase in transaction spend by Pay Later users since adoption, along with a 42% increase in order frequency and a 26% points increase in retention.
It can be deduced that even though the concept is new, Bangladesh is slowly adapting it and the idea has the potential to be a part of any kind of digital service. Although the services now remain confined to a handful of digital commerce platforms, other digital financial services can also take a lesson from Pathao and Bazar Nao's experience.
Digital credit facilities can, on the one hand, make it a bit easier for the middle class to thrive in a booming consumer economy. On the other hand, it may ensure the much-coveted financial inclusion of the disenfranchised in Bangladesh.