Germany to send Leopard 2 tanks to Ukraine — reports
Shining BD Desk || Shining BD
Published: 1/25/2023 5:26:41 AM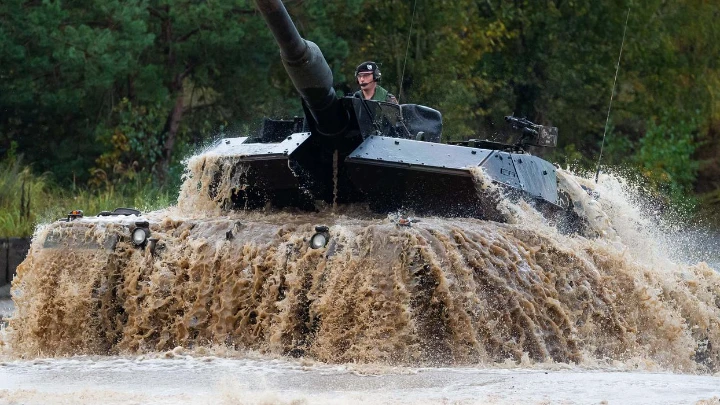 Not-yet-confirmed news reports from several outlets say Germany's government has decided to send Leopard 2 tanks to Ukraine along with allies. This follows a fairly long-running debate.
German news magazine Der Spiegel and others published stories on Tuesday evening saying that the government in Berlin had decided to send Leopard 2 tanks to Ukraine.
This follows a long-running debate on the issue among NATO allies, and comes after Poland formally asked Berlin for permission to send some of its Leopard 2 tanks to Ukraine earlier on Tuesday.
Spiegel magazine reported that the decision would involve sending at least one company of Leopard 2A6 tanks.
Spiegel attributed its information to government sources but did not identify them. Broadcaster ntv issued a similar report, and the dpa news agency later said its "coalition sources" had said the same. But the government did not immediately comment publicly on the reports.
German-made military equipment can only be sent to third countries with approval from Berlin. Spiegel reported that other European countries, including some in Scandinavia, would also supply their tanks to Kyiv.
Although Germany's Defense Ministry, military, and several other actors would surely have been involved in discussions, ultimately the authority to make this decision rests with Chancellor Olaf Scholz.
New defense minister hinted at movement earlier on Tuesday
On Tuesday morning, at a meeting with NATO Secretary-General Jens Stoltenberg in Berlin, German Defense Minister Boris Pistorius said, "I am expecting a decision to be reached shortly" when it came to exporting Leopard tanks to Ukraine.
Pistorius said that various preparatory work had already begun to facilitate such exports should they be approved, tackling issues like ordnance, maintenance and repairs, and training Ukrainian troops to operate them.
"We are already preparing ourselves for all of that," said Pistorius, who was only sworn in last Thursday following his predecessor's resignation. "And for the event of a positive decision, we will then be capable of acting very quickly."
A decision or some form of announcement on this had been expected in some corners at last week's meeting of NATO and other countries' defense ministers at the US military air base in Ramstein in Germany, but it did not materialize. That was Pistorius' second official day in the role.
The news also coincides with the Wall Street Journal reporting that the US would consider sending some comparable M1 Abrams tanks to Ukraine.
One reason Germany had given for its reticence was not wanting to be seen as "going it alone" within NATO.
Britain is also sending comparable Challenger battle tanks to Ukraine, and France is said to be considering a similar step.
Similar pattern to other German weapons exports
Germany's approach to sending weaponry to Ukraine has come up for criticism among some allies since the war in Ukraine broke out.
That is primarily because of Germany's restrictive policies on exporting weapons to hot conflicts that have largely applied since the country's defeat in World War II.
The country has undone several principles or rules it typically held to in post-war years to support Ukraine.
However, doing so has typically taken time, often more time than other NATO allies have needed.