Bangabhaban is now open for visitors on a limited scale
Shining BD Desk || Shining BD
Published: 1/25/2023 4:47:02 AM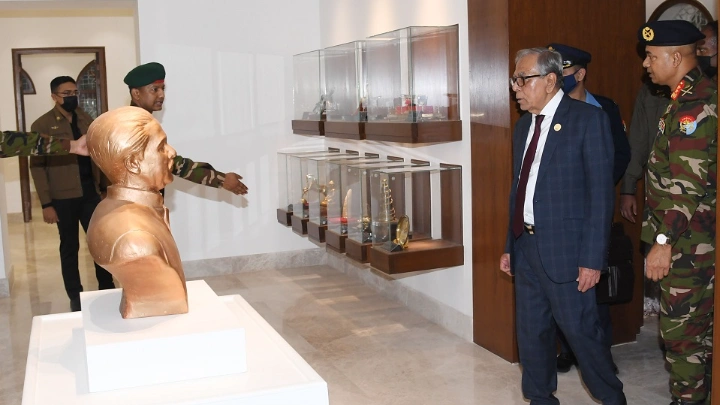 The presidential house Bangabhaban is now open for visitors on a limited scale.
President Abdul Hamid said after inaugurating the renovated Air Raid Shelter and Bangabhaban Toshakhana Museum on Tuesday afternoon.
"People usually can't enter Bangabhaban. Nobody knows what's inside, it's in the darkness," he said. "People will also know the history and tradition of Bangabhaban."
Terming the Bangabhaban Toshakhana Museum as one of the monuments of centuries of colorful history and tradition of the Bengalis, the President said, "I believe, the Bangabhaban Toshakhana Museum will play an important role in preserving the rich history of Bangabhaban and presenting it to the future generations."
Hamid said the foreign envoys or ambassadors and visitors would be able to get acquainted with the country's history, heritage and culture during their visit.
The people will also be attracted by visiting many installations of Bangabhaban, and subsequently their attitude towards Bangladesh would be very positive, the President added.
Bangabhaban was once called 'Manuk House'. After that, it was regarded as Governor House. A unique combination of Victorian architecture with Islamic and Bengali architecture, this building is now the office and residence of the President of the Republic.
Various schemes are being implemented including modernisation of Toshakhana and Air Raid Shelter House and construction of a walkway with the aim of opening the Bangabhaban to local and foreign visitors in a limited scale.
In the afternoon, President Hamid inaugurated the newly constructed Toshakhana Museum and visited the installations at different rooms there.
Under the overall supervision of Bangabhaban, this dilapidated Toshakhana was elevated into a museum with a modern look.
The Toshakhana houses are decorated with the gifts from different heads of states and governments of different countries across the world.
Apart from the opening for domestic and foreign visitors on a limited basis, the initiatives have been taken so that anyone can visit the Toshakhana online from any part of the world and learn about Bangabhaban.
Earlier, President Hamid planted a sibling there after inaugurating the renovated Air Raid Shelter House.
Due to lack of use, this abandoned shelter built in 1965 was taken as a historical monument for the visitors coming to Bangabhaban. The Air Raid Shelter House has been renovated in its original shape.
Besides the modern landscaped, Bangabhaban has beautiful green gardens, Dumba Shed, Deer Park, four nicely arranged ponds and a swimming pool.
President's wife Rashida Khanam, State Minister for Cultural Affairs KM Khalid, State Minister for Housing and Public Works Sharif Ahmed, State Minister for Information and Communication Technology Zunaid Ahmed Palak, Rezwan Ahammad Taufiq MP and secretaries concerned and high civil and military officers accompanied the President at the event.
Source: UNB