Ctg port handles record volume of containers and cargoes
Shining BD Desk || Shining BD
Published: 7/3/2022 4:58:06 AM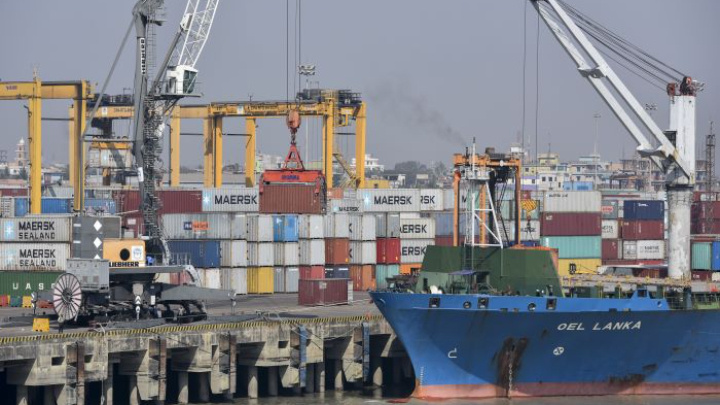 Chattogram port handled a record volume of containers and cargoes in the just-concluded fiscal year riding on the rebound of Bangladesh's international trade as global economies reopened from the coronavirus pandemic-induced economic slowdown.
Data from the Chattogram Port Authority (CPA) showed the country's premier seaport handled 32.55 lakh twenty-foot equivalent units (TEUs) of containers, including import, export and empty ones, in 2021-22, posting a growth of 5.11 per cent from a year ago when it managed 30.97 lakh TEUs.
The figure included the containers loaded and unloaded at the main jetties of the port and the Pangaon Inland Container Terminal at Keraniganj and the Kamalapur Inland Container Depot in Dhaka.
The port registered 3.1 per cent container handling growth in 2020-21, 2.92 per cent in 2019-20, and 3.28 per cent in 2018-19.
Boxes totalled 30.04 lakh TEUs were handled in 2019-20 and it was 28.08 lakh TEUs in 2018-19, CPA data showed.
Commercial items, commodities, machinery, chemical products and industrial raw materials, except those for cement and ceramics sectors, are imported using containers, while export-oriented goods are solely carried through containers.
The port's overall cargo handling, including those containerised and bulk cargoes, grew 3.91 per cent year-on-year in FY22.
More than 11.81 crore tonnes of cargo moved through the port in 2021-22, up from 11.37 crore tonnes a year ago. A total of 10.16 crore tonnes were handled in 2019-20.
Vessel arrivals at the port also rose.
A total of 4,231 vessels arrived in 2021-22, while the number was 4,062 a year ago.
CPA Chairman Rear Admiral M Shahjahan attributed the overall rise in cargo and container handling and vessel arrival in the last fiscal year to an increased foreign trade helped by the improvement in the pandemic situation at home and abroad.
In Bangladesh, imports grew a staggering 41.42 per cent year-on-year to $68.67 billion in the July-April period of FY22. It was $48.55 billion in the same period a year ago, central bank data showed.
Merchandised goods exports stood at $47.17 billion in the July-May period, up 34.09 per cent, year-on-year. The shipment was said to have crossed $50 billion in FY22, the first time in the country's history.
"Continuous steps to improve the port's capacity and efficiency helped us handle a record number of cargoes and containers," said the CPA chief, adding that the port's container storage capacity has been beefed up and various new equipment is being added.
According to Shahjahan, the port has not been closed for a single day since the pandemic hit the country more than two years ago.
"We also did not face congestion whereas regional ports witnessed significant snarl-ups during the pandemic. As a result, our overall productivity has increased."
The Daily Star