Cold still grips the northern region
Shining BD Desk || Shining BD
Published: 1/10/2023 5:09:16 AM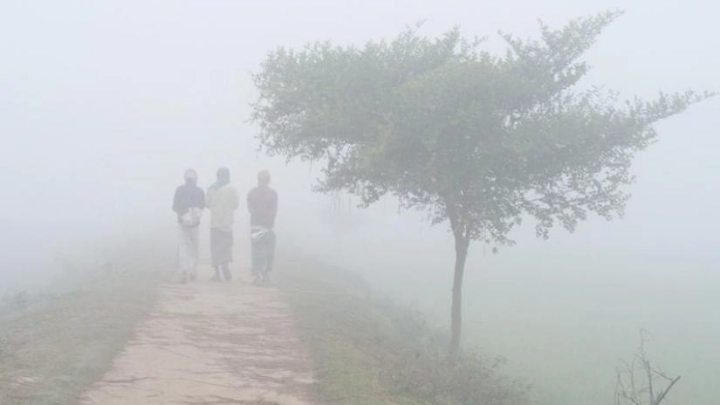 Although the severity of the country's bitter cold has significantly lessened in some areas, the northern and northwest regions are still suffering from a cold wave.
As the sun finally emerged after many days, the capital's residents felt the cold less intensely on Monday.
Less intense cold waves were also experienced in a few areas that fall within the divisions of Sylhet, Mymensingh, Barishal, and Dhaka.
Moderate-to-thick fog has been taking place over the river basins and adjoining areas, affecting road, air and ferry services.
The temperature in the northern and northwestern parts of the country has also reduced further.
The country's lowest temperature was recorded at 7 degrees Celsius at Tentulia on the day while it was 7.8 degrees Celsius at Jashore and Chuadanga on Sunday.
The temperature of Dhaka city has increased by 0.9 degrees Celsius in 24 hours. Its lowest temperature was recorded at 13.2 degrees Celsius on the day.
Dhaka's temperature was 12.3 degrees Celsius on Sunday and 11.5 degrees on Saturday.
A mild cold wave is sweeping Rajshahi and Rangpur divisions and Chuadanga district and it may continue, said a meteorologist at Bangladesh Meteorological Department (BMD).
Night temperature may remain nearly unchanged and day temperature may rise by (1-2)° C over the country, it said.
The lowest temperature of Rajshahi was 10 degrees Celsius, Ishurdi was 9 degrees Celsius, Bogura was 10 degrees Celsius, Badalgachhi was 8.2 degrees Celsius and Tarash was 10 degrees Celsius on the day.
The lowest temperature of Rangpur was 9.6 degrees Celsius, Dinajpur was 8.4 degrees, Sayedpur was 8.2 degrees, Dimla was 8.1 degrees and Rajarhat was 8.8 degrees.
The people living in open and public spaces like bus and railway stations, day labours and slum-dwellers are suffering much from shortages of warm clothes and most of the time they have to stay idle due to the crisis of work.
The number of patients with cough, fever, asthma and other diseases marked a sharp rise due to the cold weather in the last couple of days, hospital sources said.
Many children are also attacked by cold-related diseases while childhood pneumonia cases and deaths have increased around the country.
The passengers of buses, rivers way and planes also suffered as dense fog disrupted ferry services and flight schedules.
Ferry services on Chandpur-Shariatpur route were suspended for eight hours due to dense fog on Monday.
"Ferry services were suspended at 12am on Sunday due to heavy fog for the safety of passengers," Bangladesh Inland Water Transport Corporation (BIWTC) ferry ghat manager Faisal Alam said.