Too many patients, too few beds
Shining BD Desk || Shining BD
Published: 1/9/2023 6:04:24 AM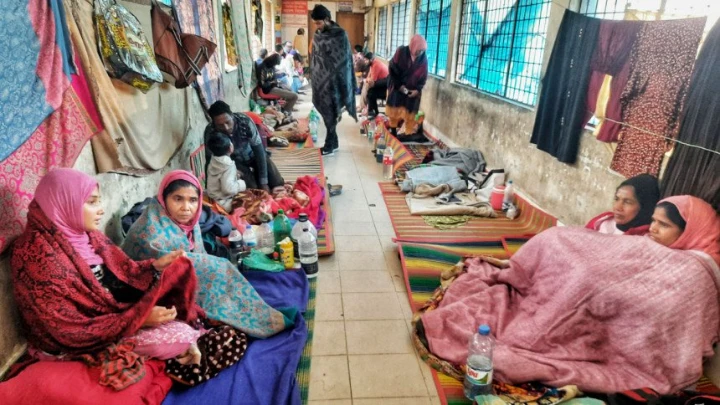 Khadiza Begum, came to Khulna Medical College Hospital on December 30 from Satkhira's Shyamnagar, with her six-year-old son Siam, who was suffering from high fever and shortness of breath.
"My son's fever has not yet subsided. He remains senseless most of the time. Due to the lack of a bed, we are forced to keep him on the floor despite his severe situation," she told this newspaper yesterday.
Many other patients and their attendees echoed the same.
KMCH is at present overwhelmed, having to deal with patients much beyond its capacity amid cold weather. Besides, hundreds of patients having to stay in the corridors and balconies due to the lack of a bed.
Most of the elderly patients and children who are admitted have respiratory problems. They are suffering from pneumonia and other cold-related diseases.
KMCH has 500 beds. However, there were 1,083 patients admitted to the facility as of yesterday. Among them, 30 are children.
According to hospital authorities, seven people died in the facility on Sunday, while 15 died on Saturday. They were all suffering from cold-related diseases.
Of the deaths yesterday, six were children.
People suffer the same fate in Tangail, as hospitals have been overflown with patients due to cold-related diseases. Photo: Star
The government established the 250-bed Khulna Hospital in the Boyra area of the city in 1989. In 1992, it was upgraded into KMCH. The health ministry increased the number of beds in the hospital to 500 in 2008.
At present, patients are treated here in 31 wards under 16 departments.
Niaz Mustafi Chowdhury, assistant director of KMCH, said, "We're struggling to keep up with so many patients."
Yesterday from 12:00pm to 2:00pm, this correspondent visited various wards and units at KMCH and found patients on the corridor floors, in front of the elevator, and in the balconies.
Some wards were so crowded that there was no space to even enter. The children's ward has the worst conditions. To stop air from blowing in from outside, that ward's balcony space has been covered with polythene and cloth.
Md Abu Zahid, assistant registrar of the children's ward, said the number of children suffering from cold is increasing due to the recent cold waves. They are mostly admitted with diarrhoea and viral pneumonia. The age of such patients is between two months and six months.
Contacted, KMCH Director Dr Md Rabiul Hasan, said, "The hospital doesn't have enough doctors to treat such a large number of patients."
TANGAIL FACE THE SAME ORDEAL
Meanwhile, Tangail's 250-bed General Hospital is also overwhelmed with patients. To tackle the situation, a separate ward was dedicated for children suffering with cold-related diseases yesterday.
According to hospital sources, there were only 23 seats available for children at the hospital, while 69 of them were admitted until yesterday.
Contacted, Khandakar Sadiqur Rahman, superintendent of the hospital, said many children were suffering from pneumonia and asthma due to the bitter cold.
The number of patients at the hospital increased almost four-times, and around 80 percent of them had cold-related diseases.
"A 20-bed ward was opened yesterday to accommodate the additional child patients," he added.
Source: The Daily Star