Bangladesh's tour of West Indies 2022
Siddons against 'dropping and changing players'
Shining BD Desk || Shining BD
Published: 6/30/2022 6:24:49 AM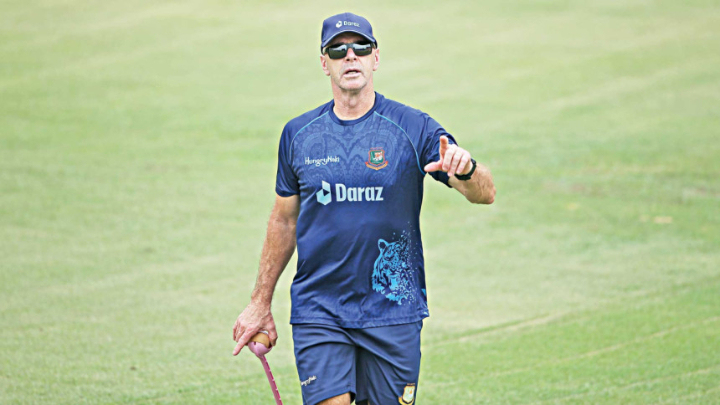 Following batting debacles which led to a whitewash in the Test series against the West Indies, Bangladesh batting coach Jamie Siddons has shifted his focus towards the limited-overs formats as the Tigers prepare to take on the hosts in a three-match T20I series, starting on Saturday.
"The Test matches weren't great, but I'm focused on the T20s now," Siddons said in a video message sent by the BCB.
"I haven't got enough time to see how my players perform in the T20s since I came here. But I do know that we've got some really good players in the team and let's see how these three games play out," Siddons added.
When asked why Bangladesh have failed to produce power-hitting batters like other teams, the Australian hinted that the physical aspect of the players has a role and suggested alternative solutions.
"As a nation, I don't think we [Bangladesh] have many big players. If you look at players like Jos Buttler, Glenn Maxwell and more, they are over six feet tall. But we have to find other ways too.
"I don't think we need to put massive totals on the board, but we should put good totals. Singles and twos are very important and also boundaries as well. Hitting fours is almost as good as hitting big sixes and I think we should focus on that," Siddons said.
Bangladesh's batting line-up has collapsed on numerous occasions since the arrival of Siddons as the batting coach earlier this year. However, the coach believes more time is required for him to work with all the batters to improve their technique.
"I've got only five training sessions since I came here. There are a lot of matches going on and you can't work on a new batting technique in the middle of a series. So I think more time is required to work with the batters individually. At the moment we are always preparing to play a game," the Australian said.
The former Bangladesh head coach also emphasised on experience for ensuring development of any cricketer at the international level.
"I think what you're going to find in most teams when you get experience in international cricket, you get better. And that's what we need to make sure and be aware of. We can't keep dropping and changing players, they're only going to get better by playing international cricket," Siddons concluded.
The Daily Star