BNP's 27 points parts of anti-govt movement: Amir Khosru
Shining BD Desk || Shining BD
Published: 1/9/2023 5:21:46 AM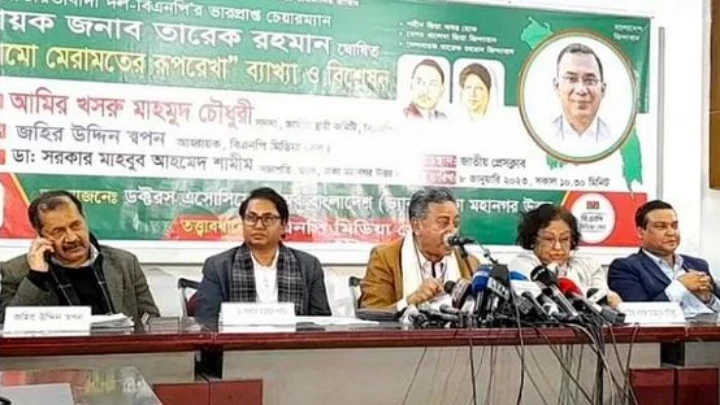 BNP senior leader Amir Khosru Mahmud Chowdhury on Sunday said their party's 27 points for the state reform are 'parts of the ongoing movement' to unseat the Awami League government.
"I have been saying repeatedly that these 27 points are parts of the ongoing movement. It's not different," he said.

Speaking at a discussion, the BNP leader also said the philosophy behind the 27 points is to make the people understand what Bangladesh will look like in the future and also for encouraging them to involve with the current movement.

About the significance of the 27 points, he said it will not be possible to run the country in the future without implementation of these points.

"The country will be destroyed if we can't reform it. So, we must implement these 27 points for the sake of the country," the BNP leader observed.

Dhaka north city unit of Doctors Association of Bangladesh (DAB) and BNP Media Cell jointly organised the discussion titled "Explanation and Analysis of the State Structure Repair Framework" at the Jatiya Press Club.

Khosru, a BNP standing committee member, said many people are saying as to why BNP has been discussing the 27 points when the party has been on a movement to oust the government.

Through the discussions on the 27 points, he said they are trying to give people an idea about what they will gain when the current "fascist, corrupt and usurper" regime is removed from power."

The BNP leader called upon the people who are still confused about the movement and its positive outcome to take to the streets reviewing the 27 points.

On December 19, BNP unveiled a 27-point outline of 'Structural Reform of the State' — proposing radical changes to the state system including balancing the executive powers of the president, prime minister and the Cabinet, and introduction of the upper house of legislature.

The outline of the 'Structural Reform of the State' has been prepared in line with the late president and BNP founder Ziaur Rahman's 19 points and BNP's 'Vision-2030'.


Source: UNB