'Most welcome if Shakib wants to be BPL CEO'
Shining BD Desk || Shining BD
Published: 1/7/2023 3:59:36 AM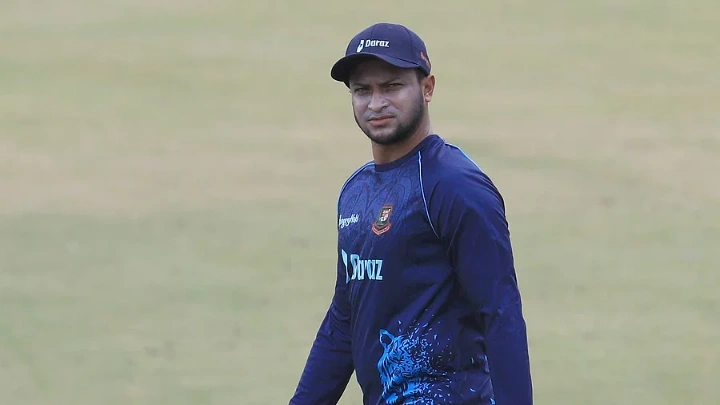 The governing council of Bangladesh Premier League (BPL) has taken star allrounder Shakib Al Hasan's scathing criticism with a positive note as they felt that it came as good publicity for the country's premier T20 event.
Shakib criticised the BPL authorities two days before the commencement of the tournament, saying that BCB's reluctance, lack of planning resulted in making the tournament a commercial failure, reports BSS.
The ace allrounder saw it as an organisational failure of BCB. He did not stop only criticising but also said that the tournament has been in tatters since its inception and that he would change the whole BPL if he is made the CEO.
After this criticism, the discussion has been doing the rounds in the cricket fraternity. But when the BPL had progressed at a snail's pace, Shakib's criticism seemed like negative publicity to BCB. Whatever the discussion, BCB accepted it with open arms. Shakib has also been welcomed as CEO by BPL governing council, the organiser of the tournament.
"First of all, I would like to thank Shakib. Most welcome if he wants to be the CEO of BPL. He is expressing his interest on his own and we have no reservation," BPL governing council chairman Sheikh Sohail said on Friday.
In response to another question, he added, "Now he is playing, so he will be considered as a player. And he cannot come here as a player. Let him come next year."
Shakib criticised BCB and said, "If I am made the CEO of BPL, it won't take me long to correct the things. I think it will take one to two months to fix everything. There will be a new draft, BPL will be in free time. There will be modern technology. The broadcast will be fine. There will be home and away venues."
Shakib also said since cricket has been a huge popular game here in Bangladesh and even the people from remote areas regularly want to take the update of cricket, it is not tougher to make BPL a commercial success.
In response to Shakib's criticism, BPL secretary and BCB director IH Mallick said that the market reality is not what the star allrounder thinks.
"Our market is not as big as India or other countries. We can't take huge amounts for franchise fees from franchises like the IPL or PSL. We had to deal with the economic crisis and various factors. Still the country's economic crisis is going on, and so it's not possible to make it bigger like IPL," he said.
"And it is not possible to run the BPL on a home and away basis because in most of the cities like Cumilla, Rangpur, we have no airport and hotel facilities. But still we will consider Khulna as another venue as soon as it is renovated."
Shakib also said, "The quality of Dhaka Premier League (DPL) is much better than BPL. At least the organisers know what to do and when."
Mallick responded, saying: "I see that Shakib misses many DPL matches. But he never misses BPL. If I question him, he has not played many games in DPL and so how can he say that BPL is worse than DPL."
However Mallick sees Shakib's criticism in a positive light. He said, "If Shakib didn't talk so much about BPL, would there have been so much publicity? Good...any positive or negative discussion is good."
-ProthomAlo