Two severed legs of Ayat were retrieved from the Ctg canal
Shining BD Desk || Shining BD
Published: 12/1/2022 6:20:37 AM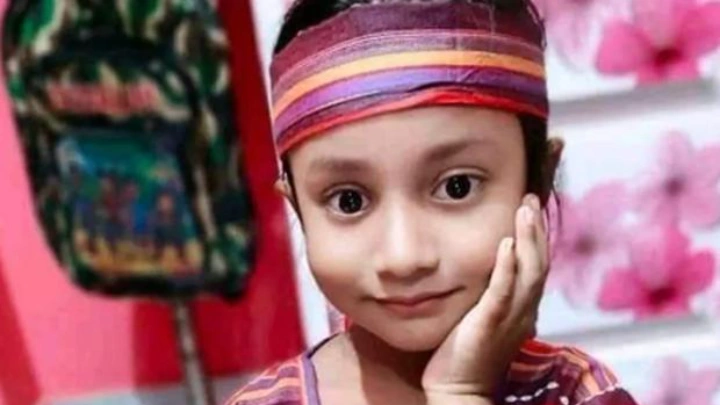 Two severed legs of five-year-old girl child Alina Islam Ayat, who was kidnapped and murdered in Chattogram, have been recovered from a canal in the port city.
Following a six-day search, the legs were found by the Police Bureau of Investigation (PBI) in a canal near the sea on Akmal Ali Road beneath the EPZ Police Station early on Wednesday afternoon (November 30). According to PBI Chattogram Metropolitan Police Superintendent Naima Sultana.
"Details will be shared later," she added.
Ayat vanished on November 15 from the Bandartila neighborhood underneath the EPZ Police Station. Her father Sohel Rana submitted a general diary to EPZ Police Station the following day. Abir Ali, the alleged killer, was later apprehended on Akmal Ali Road about 11:00 p.m. on November 24 for the alleged kidnapping and murder of Alina Islam Ayat.
Illias Khan, a PBI inspector in Chattogram, claimed that on November 15, the girl was abducted for ransom on her way to a mosque in the Bandartila neighborhood of Chattogram by Abir Ali, a former tenant of the victim's family.
Ali killed the girl by strangling her, and after bringing her to a home on the city's Akmal Ali Road, he cut her body into six parts. The body was later discarded on a beach in the Kattali neighborhood of the city by the man, according to the PBI officer.
The victim's father, Sohel Rana, lodged a general diary at the local police station after she went missing, police said.

Abir was put on another seven-day remand on Monday on completion of his two-day remand.

Abir's parents van puller Azharul Islam and his wife Aleya Begum were placed on a on a three-day remand on Tuesday. They hail from Taraganj in Rangpur district. He used to live with his parents at a rented house at Chattogram city's EPZ area.

Earlier, Abir's family lived at Ayat's grandfather's house as tenant.

Ayat's relatives said 'killer' Abir also went to their house after Ayat went on missing. He advised Ayat's parents to be patient. Even, Abir went different places in search of Ayat. So, he was above the suspicion of all concerned.

'Killer' Abir also told Ayat's relatives that he came across Ayat on the day she went missing. He then allowed her to go. When Ayat's relatives told it to the PBI investigators, they examined the CCTV footage and suspected Abir.