"Under Sheikh Hasina's leadership, Bangladesh is a role model of development": Mohibul Hasan Chowdhury Nowfel
Shining BD Desk || Shining BD
Published: 11/28/2022 4:31:28 AM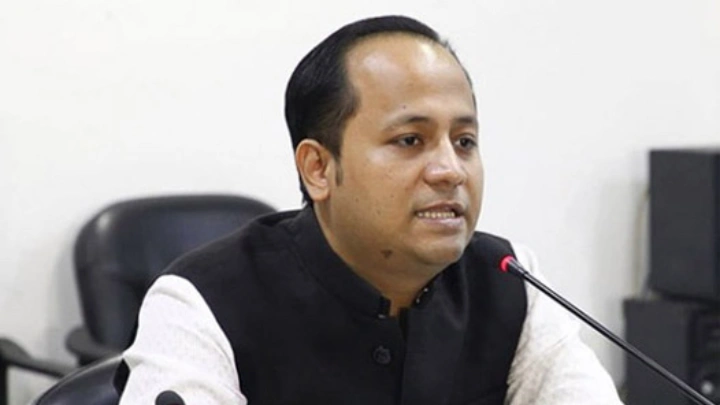 Following a number of epoch-making initiatives made by Janonetri (public leader) Sheikh Hasina, Bangladesh has established itself as a role model for development.
Deputy Minister for Education Barrister Mohibul Hasan Chowdhury Nowfel MP, said this while addressing as the chief guest at an extended meeting of the ruling Awami League (AL) at Railway Hospital Colony High School ground at Batali Road in Enayet Bazar, Chittagong yesterday.
He said that Sheikh Hasina is a name adored worldwide for her work of lasting development and humanitarian acts. "Because of her bold leadership, Bangladesh is now a milestone of development in the committee of nations," he said, adding that it is hoped the people of Chattogram will show their deep respect and gratitude to the Prime Minister by turning the Polo Ground a sea of people on December 4.
Number 22 Enayet Bazar ward unit of Chattogram Metropolitan AL organized the meeting keeping in forefront the upcoming Chattogram grand rally of AL scheduled to be held in the port city on December 4.
Presided over by the ward AL unit President Alhaj Sher Mohammad, the meeting was moderated by the party unit's general secretary, Councillor Alhaj Salimulla Bachchu.
While addressing as the main discussant, Chattogram Metropolitan AL General Secretary and former City Mayor A Z M Nasir Uddin said that Bangladesh has attained to a new height under the guidance of Sheikh Hasina. Overall development sectors testify to the fact, he said, adding that Bangladesh has turned into a middle income nation.
Chattogram City AL president Mahtab Uddin Chowdhury, Vice-President Advocate Ibrahim Hossain Chowdhury Babul, CDA Chairman Zahirul Alam Dovas, Organizing Secretary Shafiq Adnan, Legal Affairs Secretary Advocate Iftekhar Saimul Chowdhury, Information and Research Secretary Chandan Dhar, AL leaders Zamshedul Alam Chowdhury, former Central Jubo League leader Helal Akbar Chowdhury Babar, Shahjahan Chowdhury, Enayet Bazar ward AL leaders Mohammad Ismail Monu, Sazzadur Rahman Chowdhury, Bipu Ghosh Bilu, Advocate Sripoti Kanti Pal, Sarwar jahan Saru, Sujit Ghosh, Md Rafiq, Mohammad Sahabuddin, Sadek Hossain Pappu, M A Awal, Ritu Das Bablu, Monwar Jahan Moni, M Qutub Uddin Chowdhury, Shibu Prasad Chowdhury, Kaiser Mahmud Rizu, Mahmudul Karim and others spoke on the occasion.