Returning home, Raushon Ershad urges JP unity
Shining BD Desk || Shining BD
Published: 11/28/2022 4:20:01 AM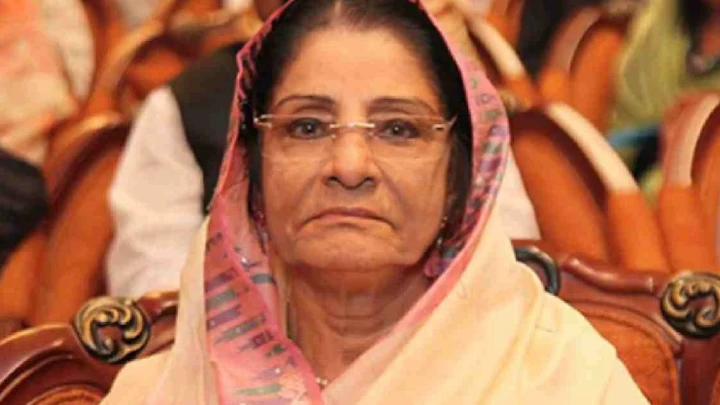 Jatiya Party leader Raushon Ershad on Sunday returned home after treatment in Thailand and called for keeping the party united removing misunderstandings through discussions.
A Thai Airways flight carrying Raushon, also the leader of the opposition in Parliament, landed at Hazrat Shahjal International Airport at 12:25pm.
Later talking to reporters at the airport's VIP Lounge, she said "I always want the unity of the Jatiya Party…there is no question of splitting the party," she said.
She said there could be some conspiracy to weaken the party like in the past. "InshAllah, we'll foil those conspiracies and build a united and strong Jatiya Party," she said.
Raushon, the 78-year-old widow of Jatiya Party founder and late president HM Ershad, also claimed that she has no conflict with the party chairman and her brother-in-law GM Quader.
"I have returned to Dhaka and I will sit with all MPs, presidium members, and others to remove confusion and misunderstanding. I am sure, we'll be able to eliminate the misunderstanding and return to the political program unitedly soon," Raushon said.
The opposition leader called upon those who left Jatiya Party at different times with Anwar Hossain Manju, Naziur Rahman Manzur and Kazi Jafar Ahmed to return to the party.
"We must give due recognitions to those who were with us during the difficult and adverse times of the Jatiya Party from 1991 to 1996," she said.
Raushon said their party will nominate a competent candidate to vie for the mayoral post in Rangpur City Corporation polls billed for December 27.
Replying to a question, the opposition leader said Jatiya Party has no reason to make any alliance with BNP ahead of the next general election.
"People want a change for progress and peace, which only the Jatiya Party can ensure, not BNP. "There is no question of forging any alliance with the BNP," she said.
Asked whether the Jatiya Party will be in alliance with the Awami League in the 12th parliamentary election, Raushon parried the question saying, "Time will tell".
About her physical condition, Raushon said she is now fine, but still have some problem with her leg for which she has been taking physiotherapy.
Raushon thanked the Prime Minister for supporting her and inquiring about her health condition during her treatment in Bangkok.
She said the current geopolitics, particularly the war in Ukraine created serious economic problems, which has also affected Bangladesh. "So, we all must remain more alert and cooperate with the government to face the challenges," she added.
Rahgir Al Mahi Ershad (better known as Saad Ershad) and his wife Mahima Saad as well as spokesperson of Raushon Ershad Kazi Mamunur Rashid also returned home with the opposition leader.
JP leaders ABM Ruhul Amin Howlader, Kazi Firoz Rashid MP, Syed Abu Hossain Babla MP, Opposition Chief Whip Mashiur Rahman Ranga, Prof Delwar Hossain, Sunil Shuvo Ray and Golam Moshi, among others, were present at the airport to welcome the Opposition Leader, said a press release.
On July 5, Raushon went to Bangkok, the capital city of Thailand, for follow-up treatment.
Earlier on November 5 last year, she was flown to Thailand by an air ambulance as her health condition turned critical. She returned home on June 27 and stayed eight days in the country before going to Thailand for further treatment.
As in the previous time, she went to Westin Hotel in the city's Gulshan area from the airport instead of her residence to stay there, party sources said.
Raushon has returned home at a time when Jatiya Party is divided over her previous call for holding the party council while Mosiur Rahman Ranga was recently removed from the party's all posts.
As a result of the party's internal feud, JP MPs sent a letter to the Speaker of the Parliament to recognise GM Quader as the opposition leader, removing Raushon Ershad.
Meanwhile, a court issued an injunction barring GM Quader from taking any political decision regarding the party on October 31 following an application filed by former JP lawmaker advocate Ziaul Haque Mridha, who was expelled from the party on September 17.
Source: UNB