BAJUS building image of gold traders
Shining BD Desk || Shining BD
Published: 11/27/2022 5:12:21 AM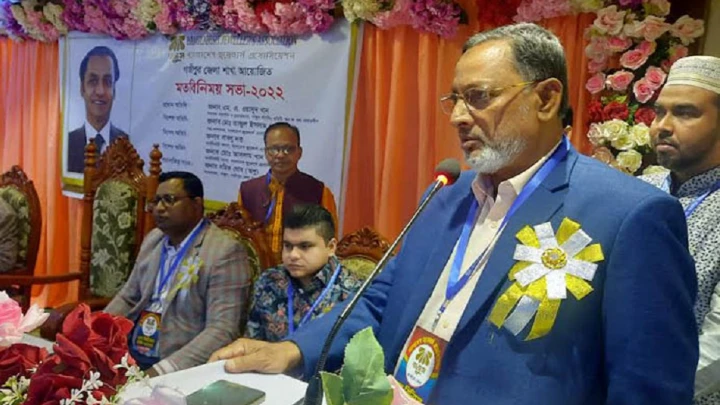 Bangladesh Jeweller's Association (BAJUS) has increased honour of gold traders in last one year providing shield for doing business from any challenges, said a central leader of the organisation.
"I served BAJUS for long time. However, there were not many developments then. The current President Sayem Sobhan Anvir has improved the situation for developing dignity of the gold traders by a revolution," MA Wadud Khan, former president of BAJUS, told a view-exchange meeting in Gazipur on Saturday.
Some six hundred jewellers participated in the view-exchange meeting of Gazipur district unit held at Joydebpur Convention Centre in the district.
BAJUS assistant secretary and Gazipur district unit convenor Shamit Ghosh Apu presided over the meeting while executive members Tazul Islam Lavlu, Bablu Dutta and Aslam Khan were also present on the occasion.
BAJUS district unit former president Azhar Ali appreciated the dynamic leadership of Sayem Sobhan Anvir to strengthen bonding of members of the organisation.
"The businessmen became victim of police harassment many times even though selling the legal gold. BAJUS President Sayem Sobhan Anvir has reshaped the industry for creating environment for doing business," Nikhil Chandra Dutta, a businessman from Tongi, said.
District unit former joint secretary general Firozul Hossain Selim said BAJUS has welcomed a huge number of gold traders across the country as the membership hiked to 40 thousands from 7 thousands in last one year.
Biswanath Karmakar of Jayadebpur market, Delwar Sarkar of Chandana Chowrasta area, Jitesh Karmakar of Kaliakair bazaar area, Chandan Rakshit of Kapasia upazila, Swapan Banik of Sreepur upazila, Santosh Karmakar of Kaliganj upazila, Atal Chandra Shikdar of Bhawal Mirzapur area and Chandan Das of Konabari area also spoke on the occasion.
View exchange meeting in Khagrachhari
There was also held a view exchange meeting in Khagrachhari on same day. Leaders of BAJUS made a call to the government to reduce harassment of gold traders.
BAJUS vice president Dr Dewan Aminul Islam was the chief guest while district unit convenor Babul Kanti Dhar presided over the meeting at Horticulture Park in the district town. BAJUS executive member Pabitra Chandra Ghosh, Reponul Hasan and district monitoring committee member Pronob Shaha were also present in the meeting.