Hospitals are battling an increase in pneumonia cases
Shining BD Desk || Shining BD
Published: 11/22/2022 4:27:56 AM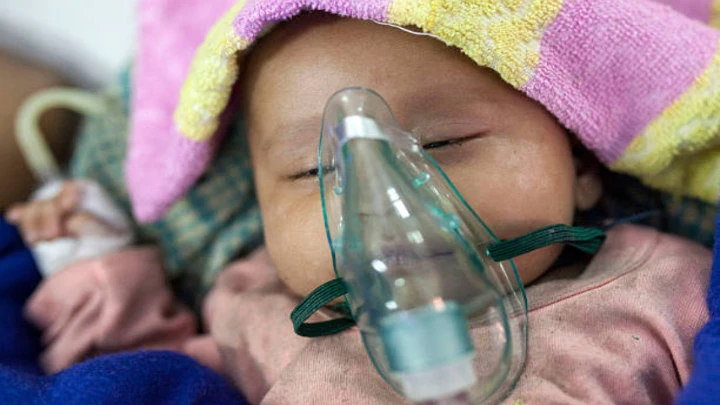 Due to an increase in pediatric pneumonia patients at the start of winter, pediatric units in hospitals across the nation, particularly in Dhaka, are under additional strain.
According to hospital sources, the number of youngsters with pneumonia has significantly increased in the month of November.
According to Prof Dr Md Jahangir Alam, director of Bangladesh Shishu Hospital & Institute, "the number of pneumonia patients at our hospital has grown by 10% in the current month."
He said 385 pneumonia patients took treatment at their hospital in October while around 200 patients have already been admitted in 20 days of November.
The child specialist advised guardians to keep their children protected from cold, maintain hygiene and ensure warm clothes, keep room temperature above 26 degrees Celsius and not to take children out of home without necessity to protect them from pneumonia.
Sources at Dhaka Medical College Hospital (DMCH) said the number of children with pneumonia has started increasing at the hospital as around 8-10 children suffering from the illness are rushing to it every day for last few days.
Over half of the total pneumonia patients are, however, taking treatment at private chambers of doctors while only severe patients are admitted to hospitals. At the same time, most of the pneumonia patients coming to Dhaka hospitals are from different other districts.
According to health experts, a number of children die of pneumonia in the country for lack of proper and timely treatment while exercising caution can easily prevent this deadly disease.
Talking to the Daily Sun, Prof Dr Mohammed Atiqur Rahman, chairman of the Department of Respiratory Medicine at Bangabandhu Sheikh Mujib Medical University (BSMMU), said "Pneumonia is a lungs infection which can affect people of all ages, including children and elderly people. Prevention and vaccination can be major steps to save lives from the disease."
Mentioning that air pollution, tobacco consumption and alcohol intake are main reasons behind pneumonia for elderly people, he advised people to maintain health guidelines, including hygiene and wearing face mask, and eat hygienic food and fruits to prevent the disease.
According to a survey, 24,300 children die from pneumonia in Bangladesh every year which is around 18 percent of all child deaths under the age of five here.
A statement of UNICEF in 2020 said 140,000 children in Bangladesh could die in the next decade unless more is done to fight pneumonia, on current trends.
Malnutrition, air pollution and lack of access to vaccines and antibiotics are among the drivers of preventable deaths from pneumonia, it added.
However, an estimated 48,000 of these deaths could be averted by significantly scaling up services to prevent and treat pneumonia, the UNICEF statement said.
A study shared by International Centre for Diarrhoeal Disease Research, Bangladesh (icddr,b) recently said in Bangladesh, about 42 percent of the children who visit the secondary hospital with pneumonia suffer from hypoxemia.
Dr Ahmed Ehsanur Rahman, Associate Scientist, Maternal and Child Health Division at icddr,b, said anyone suffering from hypoxemia requires oxygen as a medical therapy.
However, there is no specific data regarding adult pneumonia patients in Bangladesh.
According to the Centers for Disease Control and Prevention of the United States, pneumonia is an infection of the lungs that can cause mild to severe illness in people of all ages. However, some people are at increased risk for getting pneumonia.
"Certain people are more likely to get pneumonia: Adults 65 years or older, children younger than 5 years old, people who have ongoing medical conditions, people who smoke cigarettes," it said.
The World Health Organization (WHO) said pneumonia accounts for 14 percent of all deaths of children under 5 years old, killing 740,180 children across the world in 2019.
Mentioning that pneumonia can be prevented by immunisation, adequate nutrition and by addressing environmental factors, it said the disease caused by bacteria can be treated with antibiotics, but only one third of children with pneumonia receive the antibiotics they need.