Singapore for exploring various business potentials in Bangladesh
Shining BD Desk || Shining BD
Published: 11/17/2022 5:31:58 AM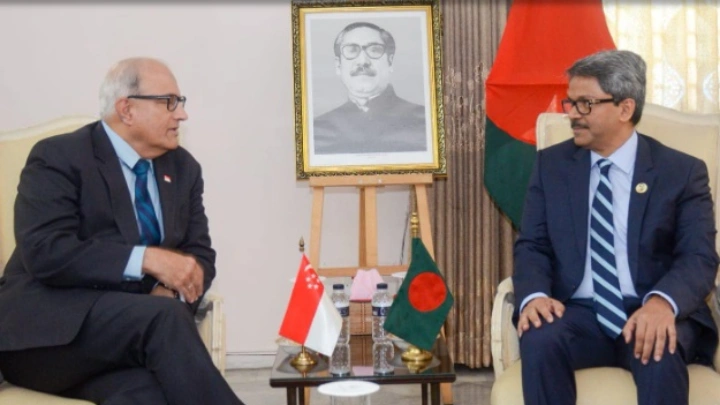 Singapore has shown its keen interest to explore the many trade potentials in different Bangladeshi sectors such as infrastructure development, energy and data mining.
This was discussed while Singaporean Transportation Minister and Minister in Charge of Trade Relations S. Iswaran held a bilateral meeting with the State Minister for Foreign Affairs of Bangladesh Shahriar Alam in the capital today, a press release said.
The Singaporean minister is currently visiting Bangladesh on the occasion of the golden jubilee of the establishment of diplomatic ties between two friendly nations.
The Southeast Asian island nation is also interested in Bangladesh's various high skilled areas including digital connectivity and services, technology transfer and looks forward to harnessing the possibilities to raise it to the next level.
Lauding the bilateral ties between the two countries as being strong and time-tested, the two Ministers exchanged their views on important areas of the bilateral relations.
During the meeting, Alam urged for more Singaporean investments to facilitate Bangladesh's transition as a regional connectivity and manufacturing hub highlighting the need for more investment in infrastructure development, including seaports and airports.
He also flagged the high agricultural productivity in Bangladesh and the prospects of agro-based industries in the country, with special emphasis on the burgeoning middle-class consumers enjoying increasingly higher purchasing capacity.
Alam observed that Singapore could consider intake of more skilled workers from Bangladesh especially in their health and other service sectors.
Mentioning Singapore as a connectivity hub for distribution of services as well as trade, he shared the aspirations of Bangladesh to emerge as a facilitator of regional connectivity for the land locked countries and regions of South Asia.
The Singaporean Minister applauded the sustained economic growth of Bangladesh under the visionary leadership of Prime Minister Sheikh Hasina.
He also appreciated hardworking Bangladeshi workers and their contribution to their construction and other sectors.
Earlier, the Singaporean minister held a meeting with the State Minister for Civil Aviation and Tourism Md. Mahbub Ali and discussed potential areas of cooperation for further strengthening the tourism sector of Bangladesh.
They exchanged views on the possible 'greening' of the new airports and civil aviation infrastructures by using renewable energy.
Later in the day, S Iswaran held bilateral talks with the State Minister for Power, Energy and Mineral Resources Nasrul Hamid and agreed to make further coordinated steps for enhanced and advanced cooperation and collaboration in the energy sector of Bangladesh through more Singaporean investments.
A Memorandum of Cooperation (MoC) was also signed by the Commerce Minister of Bangladesh Tipu Munshi and Singaporean minister S. Iswaran at the Commerce ministry today with a view to facilitate the negotiations for a free trade agreement between the two countries, the release said.
Adviser to the Prime Minister of Bangladesh on Private Industry and Investment Salman Fazlur Rahman was also present on the occasion.
By BSS