Bangladeshi man arrested for begging in Saudi Arabia, ex-robber from Meherpur
Shining BD Desk || Shining BD
Published: 6/28/2022 6:24:00 AM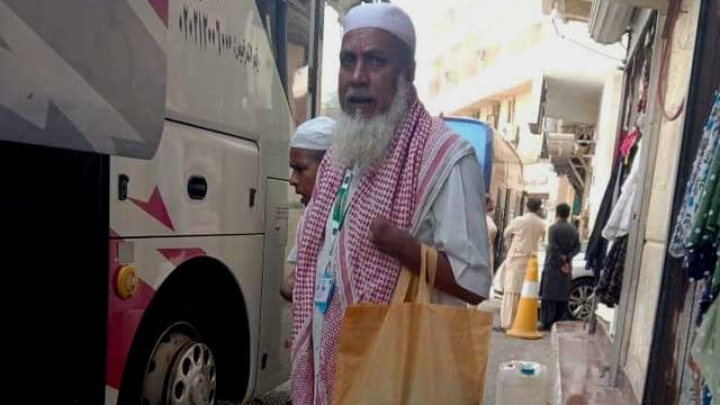 The Bangladeshi man, who was arrested for begging in Saudi Arabia, is reportedly an ex-robber from Meherpur.
Motiar Rahman is locally known as "Montu Dakaat", as he was a leader of a robber gang, residents of his village Shindurkota told Bangla Tribune.
They said he went to Saudi Arabia at least 12-13 through India, as the process is easier, and costs less money.
Motiar had also travelled to Pakistan, Afghanistan, and Saudi Arabia, mainly to beg from the locals of those countries.
Around 15 years ago, both of his wrists had to be amputated by doctors after his fingers suffered severe injuries, following a mass beating.
After that incident, Motiar chose the path of begging in different countries. He owns around 20 bighas of cropland with the money he made.
In this regard, Motiar's wife told Bangla Tribune: "I don't know what my husband does after going to Saudi Arabia. But he bought 10 bigha land from the money he brought from the country so far."
She added that she had heard about Motiar's arrest on Sunday.
"I will ask him not to go to Saudi Arabia again after he comes back home. We have to marry off our children, and people in the village are hating on us. He should not have done such a shameful thing," she mentioned.
Afzal Hossain, Harun-ur-Rashid, Jamal Mia, and Zakir Hossain of Shindurkota village, said Motiar was known as a simple man, as he left robbery many years ago.
They knew Motiar traveled to Saudi Arabia for Hajj every year, and stayed in India most of the time.
However, they said, if he was not arrested this time, the villagers would have never known Motiar's truth.
Sohail Ahmed, chairman of Matmura Union Parishad in Gangni upazila said: "I have heard about the incident. Locals in this area knew Motiar as a simple man, but we know that he never went for Hajj. It was just an excuse for him to go to Saudi Arabia and beg."
"People pray five times a day after returning from Hajj, but I have never seen Motiar in any mosque." said UP member Faruk Hossain.
He used to say that different Hajj agencies take him to Saudi Arabia every year. Each time he came back to Meherpur, he bought a different land. "Now we understand that Motiar is a fraud."
Golam Rasul, president of Meherpur District Haji Shamiti, said: "It is a shame for Bangladeshi Hajj pilgrims. We will inform the Haji Shamiti and the Ministry of Religious Affairs about the matter."
He further said, "We are urging authorities to send pilgrims to Saudi Arabia following intelligence reports. The issue of begging during Hajj has tarnished the image of Bangladesh."
Gangni Upazila Nirbahi Officer (UNO) Moushumi Khanam said: "We have confirmed his identity. An investigation has started after informing the higher authorities. Legal actions will be taken against him when he returns to the country."
On June 22, Motiar was arrested by Saudi police while begging at Medinah.
He was reportedly found begging, saying that his moneybag was hijacked.
The Bangladesh Hajj Mission later got him released after signing a bond.
He had gone to perform Hajj through Dhanshiri Travel Air Service, Councilor (Hajj) Md Jahrul Islam said.
Ministry of Religious Affairs sent a notice to the Hajj agency in question, asking why disciplinary action should not be taken against them under Section 13 of the Hajj and Umrah Law, 2021.
The notice signed by Deputy Secretary Abul Kashem Muhammad Shaheen said that the incident has damaged the image of Bangladeshi in the middle-eastern country.
They have been asked to respond to the notice within three days.
Hajj Association of Bangladesh President Shahadat Hossain Tasleem said that they are investigating the matter and steps will be taken against the agency.
Dhaka Tribune