Khloe Kardashian went the bold route with her latest red carpet look
One Look At Khloe Kardashian In A Bronze Latex Slit Gown And You'll Understand Why Every Jaw Dropped In The Room
Shining BD Desk || Shining BD
Published: 11/10/2022 5:48:22 AM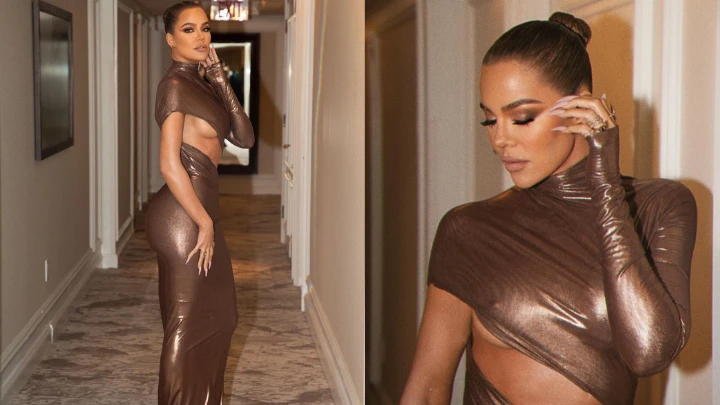 The Kardashians have a penchant for turning heads, wherever they go. Sometimes it's with an outrageous revelation on their TV show but more often than not, it's with their fashion choices. And if you thought Kim was the only Kardashian responsible for making daring style statements on the red carpet, you're about to be proven wrong. For the 2022 CFDA Awards, almost the entire K-clan stepped out in style.
There was Kylie and Kendall Jenner, Kim and Khloe Kardashian with only their sister Kourtney missing in action. This time around, Khloe was the one who dropped plenty of jaws with her ensemble.
The Hollywood celebrity picked a custom LaQuan Smith creation which came in metallic bronze latex. Khloe's gown began with a high neckline and a single fitted long sleeve. Her other shoulder featured a short sleeve which led to a slit across her midriff, which revealed a peek of under boob as well as her shredded torso. The gown went on to fit the rest of her body like a glove and ended with a flowing train behind her. A sprinkling of earrings and rings were all the accessories that Khloe needed to round off this look.
Unlike anyone else who would simply wear a designer outfit, Khloe had the pleasure of being accompanied by LaQuan Smith himself to the awards function.