NZC confirms schedule of upcoming T20I tri-series involving BD, NZ and Pakistan
Shining BD Desk || Shining BD
Published: 6/28/2022 4:58:09 AM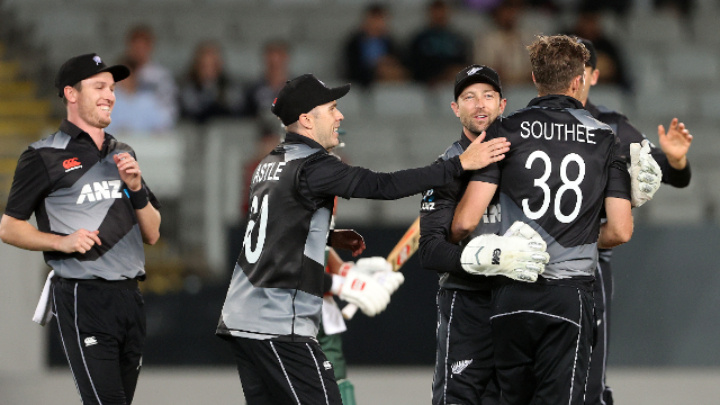 The New Zealand Cricket (NZC) on Monday confirmed the schedule of the upcoming T20I tri-series involving Bangladesh, New Zealand and Pakistan as the Kiwis released their summer cricket schedule for 2022-2023.
As part of their build-up to this year's T20 World Cup, the tri-series will begin on October 7 with Bangladesh taking on Pakistan at the Hagley Oval in Christchurch, the only venue for the tri-nation series.
The series will be played in a double round-robin format with Bangladesh next taking on hosts New Zealand on October 9 and October 12 before playing Pakistan in their final league stage match on October 13 in the third, fifth and sixth T20Is of the series.
The final of the series will be played on October 14 between the top two sides in the points table following the league stage.
The summer cricket schedule revealed by NZC also confirmed the schedule for Bangladesh Women's tour of the country in December 2022 for three T20s and as many ODIs. The series will start with the Tigresses facing New Zealand women's side in the first T20 on December 2 at the Hagley Oval. The second and third T20 are scheduled for December 4 and 7 at the Otago Oval and John Davies Oval respectively.
The ODI series will begin on December 11 at the Basin Reserve. The second and final ODIs will be on December 14 and 18 at the Mclean Park and Seddon Park respectively.
Fixtures for New Zealand, Bangladesh and Pakistan T20I tr-series
| | | | |
| --- | --- | --- | --- |
| Date | Fixture | Venue | Start Time (BST) |
| Fri, October 7 | 1st T20I- BAN vs PAK | Hagley Oval | 09:00 am |
| Sat, October 8 | 2nd T20I- NZ vs PAK | Hagley Oval | 01:00 pm |
| Sun, October 9 | 3rd T20I- NZ vs BAN | Hagley Oval | 01:00 pm |
| Tue, October 11 | 4th T20I- NZ vs PAK | Hagley Oval | 09:00 am |
| Wed, October 12 | 5th T20I- NZ vs BAN | Hagley Oval | 09:00 am |
| Thur, October 13 | 6th T20I- BAN vs PAK | Hagley Oval | 09:00 am |
| Fri, October 14 | FINAL | Hagley Oval | 09:00 am |
Fixtures for Bangladesh women's tour of New Zealand
| | | | |
| --- | --- | --- | --- |
| Date | Fixture | Venue | Start Time (BST) |
| Fri, December 2 | 1st T20 | Hagley Oval | 01:00 pm |
| Sun, December 4 | 2nd T20 | University of Otago Oval | 08:00 am |
| Wed, December 7 | 3rd T20 | John Davies Oval | 08:00 am |
| Sun, December 11 | 1st ODI | Cello Basin Reserve | 05:00 am |
| Wed, December 14 | 2nd ODI | Mclean Park | 08:00 am |
| Sun, December 18 | 3rd ODI | Seddon Park | 05:00 am |
The Daily Star