DNCC move to ease traffic jam
Shining BD Desk || Shining BD
Published: 11/8/2022 4:39:47 AM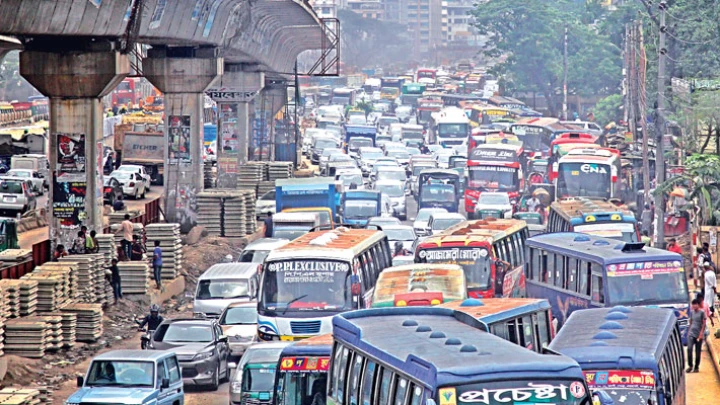 Dhaka North City Corporation (DNCC) has moved to ease traffic gridlock in the city by improving infrastructure in three areas to remove water logging from roads.
In this regard, a project has been proposed at the Planning Commission to improve infrastructure in DNCC area-2, 4 and 5, which is expected to get nod from a meeting of the Executive Committee of the National Economic Council (ECNEC) scheduled for today, the commission sources said.
"Once the project is implemented, pedestrian and vehicular movements will be seamless in the proposed DNCC areas as roads, drains, and footpaths will be built," the Planning Commission recommends to the ECNEC.
Traffic congestion in Dhaka city is one of the major problems that creates immense suffering for its residents.
According to the Bangladesh Institute of Development Studies (BIDS), the speed of traffic in Dhaka is only 10km per hour.
There is a 2.9 percent loss of Gross Domestic Product (GDP) of one trillion taka per year created by traffic jams in the city. One of the major causes of the jams is water logging on city roads.
The Planning Commission says the project is also aligned with the government's 8th five-year plan, which suggested implementing the Local Government Division (City Corporation) Law 2009.
It has advocated for a better sewerage system, improved public health, and a safer communications system across the country.
As part of this project, the DNCC wants to make the DNCC areas free of traffic jams - although it is not possible to make all DNCC areas completely free from jams due to the impacts of other traffic gridlock in other areas, DNCC mayor Atiqul Islam said.
However, the DNCC attaches the utmost importance to removing traffic gridlock in its areas, he said.
In the DNCC area, water logging has improved during the rainy season since the canals were reclaimed from the WASA, according to the mayor.
"We will provide the necessary services gradually to make the DNCC areas a livable place," Atiqul assured.
Upon approval, the project will be implemented by 2025, planning commission sources said.
The total cost of the project is proposed to be Tk 9.63 billion. Of this, the government will fund Tk 7.71 billion and the remaining Tk 1.93 billion will come from DNCC.
The main project activities include improvement of 122 kilometers of road, construction of 220 kilometers of drainage, improvement of service packages, and construction of 80 kilometers of footpaths and six arch bridges.
By Daily Sun