Trucks retake Tejgaon road
Shining BD Desk || Shining BD
Published: 10/18/2022 4:38:49 AM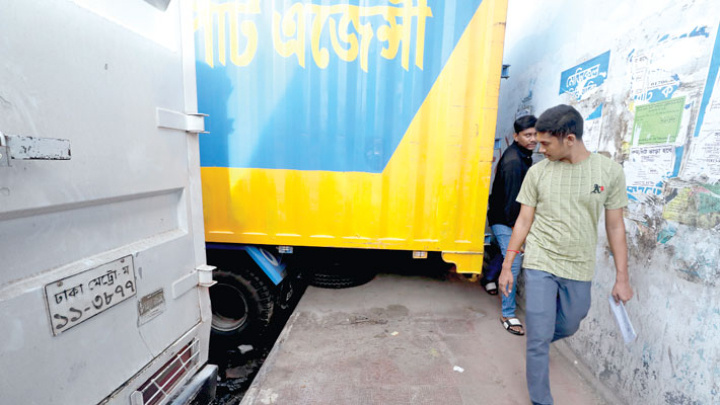 A covered van occupies almost the entire footpath apart a big portion of the road from Saat Rasta to Tejgaon rail crossing in the capital, leaving no space for pedestrians to walk past. The photo was taken on Monday. – Kamrul Islam Ratan
Trucks, pickups and covered vans have recaptured the road from Saat Rasta intersection to Tejgaon rail crossing in the capital, contributing to severe traffic jam in the area and causing no end of sufferings for pedestrians.
The heavy vehicles are parked on both sides of the 100-foot road -- somewhere in one row and somewhere in two rows – every day, narrowing the road and making it impossible for other vehicles to move around.
As a result, the road experiences traffic jam for hours every day.
Pedestrians also face trouble as the rear sides of trucks, pickups and covered vans are placed on the footpath.
Late Dhaka North City Corporation (DNCC) Mayor Annisul Huq freed the road from illegal truck parking in 2015 for which he had to incur the wrath of truck drivers and workers. Later, the road was renovated and widened.
While visiting the road recently, it was seen that trucks were kept across the road in front of the Land Record and Survey Department. Trucks and covered vans were lined up on both sides of Mayor Annisul Huq Road.
Truck repair work is going on somewhere while parts of vehicles remain scattered on the main road as well as footpath.
Covered vans are haphazardly kept on the road near Madina Mosque. There are many workers working on these vehicles. The road in front of Masjid Market on the road northwards is completely occupied by run-down trucks.
Work was underway to install bodies of new trucks and covered vans. Engine repair work is in progress for various vehicles that met accidents.
From CSD warehouse gate No. 2 to BG Press staff quarters, CSD Bhanga gate intersection and the Old FDC road, trucks, pickups and small trucks are found everywhere.
Moni Ahmed, a resident of Tejturi Bazar, said, "Due to parking of heavy vehicles, there isn't enough space for people to walk along the footpath. Pedestrians have to suffer every day while going through this area."
Mohammad Faisal, another resident of the area, said the whole area is a huge mess because of these vehicles. "People can't use the footpath and traffic congestion is an everyday affair in the area due to rampant parking."
Several truck drivers said they have been keeping vehicles on the road since Annisul Huq died.
They park those trucks, which are not rented, on the road and even if any vehicle needs repairs, it is done on the road, they said.
The truck drivers also claimed that they are charged in the name of various organisations for parking the trucks.
Police sometimes try to remove the vehicles from the road but the leaders manage it, they said.
"We have to work keeping the vehicles on the road as there's no space here. Car parts are kept on the road too," one of the repairmen said, wishing not to be named.
On condition of anonymity, several labour leaders said there are at least 3,000 trucks, pickups and covered vans in Tejgaon area that carry goods to and from Karwan Bazar and Tejgaon Industrial Area.
There is a site, which has been used as a truck stand for long, but it has no capacity for even 300-400 trucks and covered vans, they said, adding that influential truck owners and union leaders are parking truck-covered vans on the busy road by the site.
Tajul Islam, president of Bangladesh Inter-District Truck Drivers' Union, said, "Every day thousands of trucks-covered vans enter Dhaka with goods. Sometimes trucks load and unload goods on the road. However, business of this sector is now shrinking as trucks are not hired regularly due to the hike in fuel prices. The owners and workers don't want to move trucks because they can't pay the truck rent. Even some trucks sit for months."
"Since Mayor Annisul Huq evicted the truck-covered vans from this road, we also want the place to remain free of vehicles. However, there's no specific place for the truck stand. What is there is also railway land. Another site is being sought for a truck stand. The trucks will be removed as soon as space is available. The road will be freed," he added.
Contacted, DNCC Chief Executive Officer Md Selim Reza said, "We're also aware of the traffic congestion and public sufferings caused by the encroachment on the road. However, we aren't carrying out any drive to evict trucks as there's no other parking place in the city. If trucks are removed from here, they'll park on another road."
He also said Mayor Atiqul Islam is trying to construct a modern terminal as soon as possible. "BTCL has quite a few empty spaces here. We've also written to them asking for space. I hope there'll be a solution soon."
By Daily Sun