"Women Voters Excitement Around Ripon's Wife Dr Mariam"
Shining BD Desk || Shining BD
Published: 10/8/2022 12:33:41 PM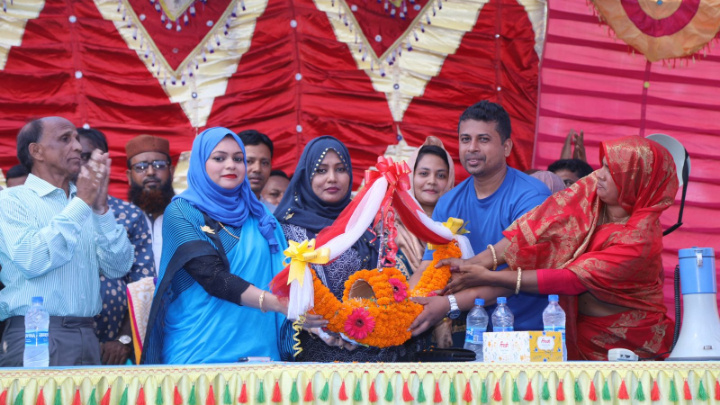 Dr. Mariam Zaman. has become the local people's 'own' by promising to end the 'deprivation of several ages' of women voters.
She is the wife of Mahmud Hasan Ripon, the candidate of the ruling Awami League in the by-election of 33, Gaibandha-5 (Saghata-Phulchari) constituency.
Taking part in the campaign for her husband in the vote war, Dr. Mariam promised to ensure health care for the 'deprived' villagers, especially women.

Dr. Mariam Zaman
She said that he will provide regular medical services in Saghata-Phulchari immediately after the polls. She said, during the election campaign, I realized that the women of this region have been deprived of modern medical services for ages. I have discussed this with my husband before. He has already taken some steps. As a doctor, this feeling is very personal to me. We want to give the people of this region a healthier life."
Ripon, the former president of the Chhatra League, has been directly involved in development activities in his area for more than a decade and a half. Even though he is not a local representative, he is working to permanently change the quality of life of the people of this natural disaster-prone area.

Dr. Mariam Zaman during campaign
Local residents said Mahmud Hasan Ripon's work for helpless people during floods, corona, and various natural calamities cannot be compared.

Dr. Mariam Zaman - a popular figure among the lady voters
In Gosaghata-Fulchari, for the campaign of the boat marker (Nouka Marka), Dr. Mariam has been in the streets from morning to night to reach the voters from door to door using a van, boat, or even by foot! At the beginning of the terrible days of Corona, her came to the discussion by making PPE and distributing it all over the country on his own initiative.
Next October 12th
in the by-election of 33, Gaibandha-5 (Saghata-Phulchari), 3 lakh 29 thousand 743 people of 17 unions will vote. A significant part of the total voters is women and youth.
After the former MP of Gaibandha-5 Constituency, late Deputy Speaker Advocate Fazle Rabbi Mia died, this seat was declared vacant.