Hatirpool Sessions: When friendship and music come together
Shining BD Desk || Shining BD
Published: 9/28/2022 6:20:12 AM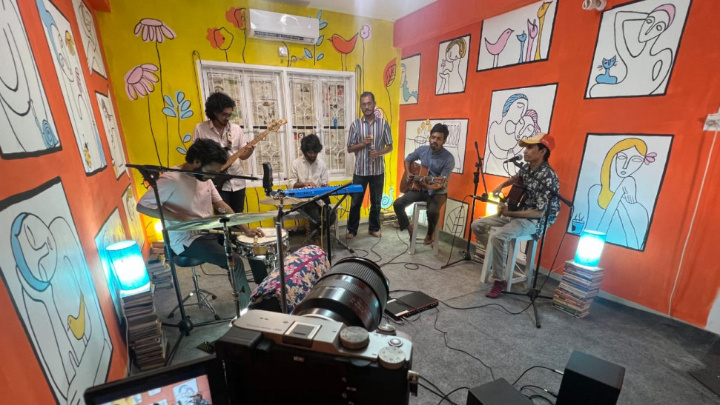 A group of friends talking, laughing and creating music. A room filled with beautiful doodles in the background, and books scattered all around. This is the setting for Hatirpool Sessions, a platform curating the work of new and upcoming artists. Their music covers, original songs and candid videos, have earned them much love and appreciation in recent times.
Finding the spark
Anirudha Anu, Shahnaj Parvin Jonaki, Mark Ratul Sinha and Anoy Chowdhury are the four friends behind the Hatirpool Sessions.
Music has always been a part of their friendship, and they felt that there was something missing in the experimental Bangla music scene. They also noticed how many young and aspiring artists did not have a platform, where they could share their work and promote themselves in the country's music industry.
Anu had always found field recording—live recording of an artist's performing—very soulful.
Jonaki, on the other hand, thought about the amazing music her friends would create during their hangouts.
Thus, began the journey of Hatirpool Sessions.
From fun shoots to musical sessions
The first day was a test run at Jonaki's terrace, the usual hangout destination of the group. It was not a professional shoot. It was just another day of Jonaki, Anu, Ratul and Anoy enjoying music on the terrace—only this time, with a camera capturing it.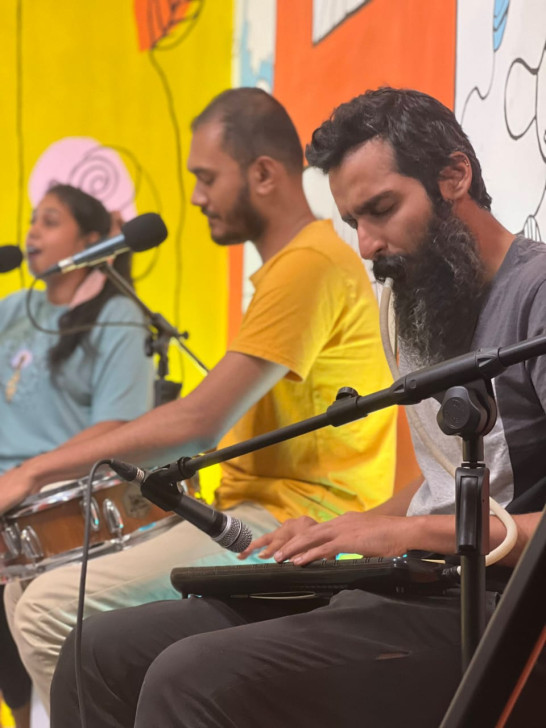 The shoot turned out to be a success. They knew they had to continue their sessions, and so they decided to expand their passion project by contacting artists they knew—who would be willing to work with the kind of dedication this little project required.
At this point in time, the project was independent and all operational expenses were taken out of the group's own pockets. Artists were not provided with remunerations either, and the only thing that kept driving them was their love for music and collaboration.
The Sessions begin
Samin Yasar, a member of their house band, broke down the creative process behind composing their songs. First, the artists present their ideas and receives input from everyone. Next, they have practice sessions. The house band oversees the requirements of a specific song, and decides on its musical arrangements.
Even though a lot of planning goes into creating these songs, no one knows what the final result will sound like, until after a few practice sessions. This element of surprise is a part of their process.
To ensure they end up with a coherent sound, Anirudha Anu takes on the roles of music director and sound engineer. He has a preference for natural mixing, and tries to reflect the artists' tastes in the final track. It is due to Anu's hard work and dedication, that their projects sound excellent when performed live, despite the many technical limitations.
Anoy Chowdhury is responsible for the video production—handling everything from lighting to editing. In his opinion, the first season was personal, but the second was more challenging, as it required field recording. Chowdhury mentioned that despite the challenges, he manages to produce beautiful videos because he incorporates feedback from everyone in the group.
Right from the first season, they wanted to create a house band that would have full control of the music production. Their vision was to merge the ideas of artists with their own, and to create music through collaboration.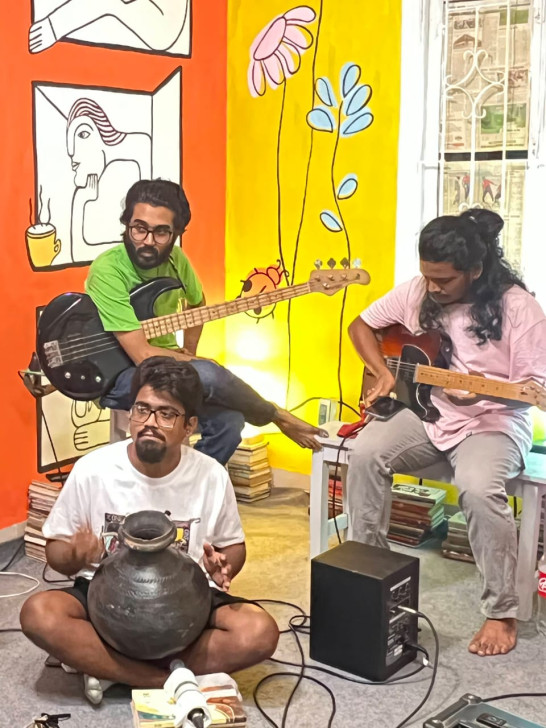 By the time the second season rolled around, they were able to successfully create a band of young and passionate artists. The line-up consists of Tapesh Chakraborty, Vasha Chetona Rahman, Sayad Azmaine, Samin Yasar, Hasin Aryan, Dipto Rifat Arefin and Dipta Pritom Nath.
What added a personal touch to the second season of Hatirpool Sessions, was the background of their set. Jonaki was the one responsible for doodling the entire design and painting the walls.
Building for the future
The hard work and dedication that went into creating the Hatirpool Sessions, is what binds them all together, explained Anu. "To build something sustainable, one has to put in the effort. As there was no option for remuneration, we could only count on people who are as passionate as us, to create something of this magnitude."
Their songs "Anondo Dao", "Monohor" and "Upo", convey these very emotions and have become the recent favourites of many.
Interested readers can catch the Hatirpool Sessions at the Liberation War Museum on September 30, where they will be performing alongside many other young artists.
-Lubaba Mahjabin Prima, Daily Star