Banana thrown at the Brazilian star as they thrash Tunisia in a friendly
Shining BD Desk || Shining BD
Published: 9/28/2022 5:40:02 AM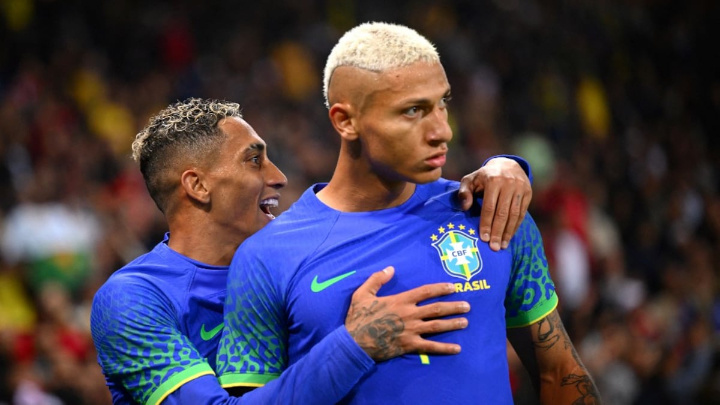 Richarlison was the target of a banana thrown by the crowd as Brazil thrashed Tunisia 5-1 in a friendly in Paris on Tuesday, while Neymar moved closer to Pele's all-time goalscoring record for the five-time world champions. Play at the Parc des Princes was also briefly halted in the first half when the crowd was twice implored not to point laser pens at Brazil players. "Unfortunately… a banana was thrown onto the field towards Richarlison, who scored the second Brazilian goal," the Brazilian Football Confederation (CBF) said on Twitter.
"The CBF reinforces its position in the fight against racism and repudiates any prejudiced act."
The Selecao produced a dominant first-half display in their last game before traveling to Qatar for the World Cup, with Raphinha scoring twice and Neymar coming within two of Pele's record.
Richarlison also found the net, while Pedro scored off the bench in the second half before responding to more boos and missiles from the crowd bowing in front of them in celebration.
"It's a shame, it's hard to see images like that," said Brazil captain Thiago Silva, whose team posed for a pre-match team photo with a banner bearing an anti-racism message.
"Unfortunately we can't seem to change people's minds.
"I hope they realize that this is not working, it is the past, we have to change. Unfortunately, people continue with this mentality."
Tite's Brazil will head into their World Cup Group G opener against Serbia on November 24 on a 15-match unbeaten streak, dating back to their Copa America final loss to Argentina last year.
The stage for a moody match was set when a large number of Tunisian fans booed the Brazilian national anthem before kick-off.
"I was taken aback, I was like, 'No, it's disrespectful.' Soccer is a sport that promotes inclusion," Tite said.
However, Brazil took the lead in the 12th minute, when Casemiro finished the ball over the top and Barcelona winger Raphinha directed a marvelous looping header over Tunisian goalkeeper Aymen Dahmen and into the net.
Jalel Kadri's men responded six minutes later.
Defender Montassar Talbi found Anis Slimane's free-kick to send a powerful header into the bottom corner past goalkeeper Alisson.
Incredibly, Brazil took the lead again just seconds after that setback, as Raphinha sent Richarlison from behind to drill a shot through Dahmen's legs to score his third goal in two games after a brace against Ghana.
The Tottenham striker celebrated in front of the Tunisian fans, who responded by throwing a banana and plastic cups at him.
Fred kicked the banana out of the field, before additional security guards set up to one side of the field.
Neymar penalty in the net
Brazil nearly extended their lead when Paquetá followed up a good turn with a low shot that Dahmen swung wide.
But from the resulting corner, Casemiro was dragged down into the box and Neymar stepped forward to score his 75th international goal from the penalty spot, despite lasers being pointed at his face.
Brazil continued to cut through the visiting defense with ease and Raphinha scored again in the 40th minute with a shot to the post from the edge of the area.
Things went from bad to worse for Tunisia before half-time when Dylan Bronn brought down Neymar and was harshly sent off after a brief melee between the two teams.
Tunisia improved a lot after the break, but Brazil scored again with 16 minutes to go thanks to Flamengo striker Pedro's first goal for his country.
Earlier on Tuesday, World Cup hosts Qatar survived a late missed penalty by Alexis Sanchez to hold Chile to a 2-2 draw in Vienna.
By AFP