Card-based international transactions are continuously increasing
Shining BD Desk || Shining BD
Published: 9/26/2022 5:20:49 AM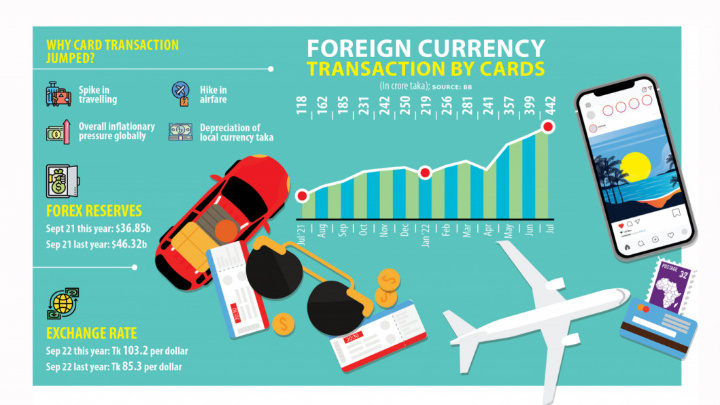 In July, card-based foreign exchange transactions continued to rise, jumping 274% year over year at a time when the nation is attempting to stop the loss of its foreign exchange reserves.
Cardholders spent an all-time high of Tk 442 crore in July, up from Tk 118 crore a year ago, shows data from Bangladesh Bank.
Bankers say the high number of card transactions in foreign currency has created further stress on the forex reserves, which fell 20.44 per cent year-on-year to stand at $36.85 billion on September 21.
While both the government and Bangladesh Bank have been discouraging their officials from travelling abroad unnecessarily in recent months, the upper and higher-middle income groups frequently visit other countries, said a central bank official.
Echoing this, Syed Mahbubur Rahman, managing director of Mutual Trust Bank, said a group of people were now rampantly going abroad, substantially pushing up foreign currency transactions through cards in the process.
On top of that, inflationary pressure is now prevailing across the globe, which is why cardholders have to spend more during their time abroad compared to previous years, he said.
Besides, many people prefer to get medical treatment in foreign countries, which is another reason for the increased spending of foreign currency through cards, Rahman added.
Md Mahiul Islam, head of retail banking at Brac Bank, said the taka's depreciation against the US dollar also widened the volume of foreign currency spent through cards.
Banks are now charging in the range of Tk 104-Tk 105 per US dollar if clients use cards to purchase anything from abroad while the rate ranged between Tk 88-Tk 89 a year earlier.
Islam then said the demand for purchasing products and services has not declined among people despite the inflationary pressure, which was playing a role in increasing spending through cards.
"Rising airfares also account for the rising card payments," he added.
HM Mostafizur Rahman, head of retail banking at Dhaka Bank, said another reason for higher card transactions in foreign currency was that a hefty number of students were now going abroad for higher education.
In some cases, parents visit their children studying abroad, which also increases the spending.
In addition, travel to and from neighbouring nations was restricted during the peak of the coronavirus pandemic but such embargos were recently lifted.
"This is why visits to neighbouring countries is increasing to a large extent," he added.
The foreign exchange reserves have been under pressure since the second half of last fiscal year owing to rising import payments stemming from global supply chain disruptions.
Remittance inflow also plummeted 15 per cent to $21.03 billion during the period.
And although both remittance and exports recently inched up, the trend has not been able to offset the high imports and debt service payments being made to foreign lenders.
Imports surged to $5.86 billion in July this year, up 23.2 per cent from a year prior. Meanwhile, exports grew 14 per cent to $3.9 billion and the inflow of remittance rose 11.76 per cent to $2.09 billion at the same time.
By The Daily Star