DU student on hunger strike to stop harassment at registrar building
Shining BD Desk || Shining BD
Published: 9/21/2022 8:32:07 AM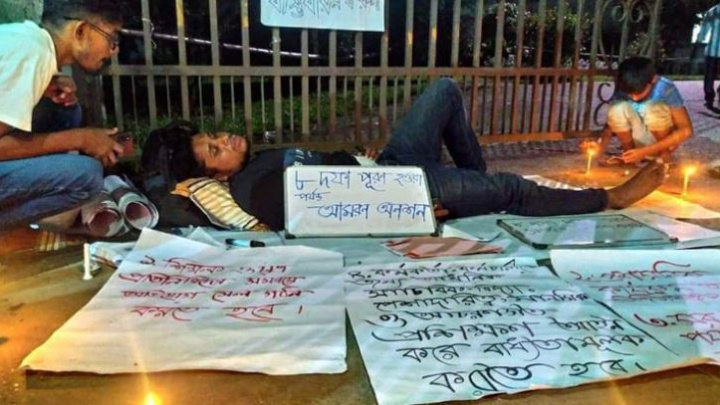 Hasnat Abdullah, a student of English department of Dhaka University (DU), has started a hunger strike after a sit-in programme demanding to stop the harassment of students at administration building of the university.
He started the strike on Tuesday in front of the administrative building.

Hasnat said, "I have announced the hunger strike protesting the non-cooperative behavior of VC sir (Vice chancellor Professor Md Akhtaruzzaman). I will continue the hunger strike until my eight-point demand is implemented."

"I went to meet VC sir on Tuesday with a mass signature paper, previously conducted survey and students' complaints. Sir did not say anything about taking necessary steps to implement our logical demand," Hasnat added.

The eight-point demand includes-

-Setting up a grievance cell consisting of teacher and student representatives to address harassment of students and ensure accountability of administrative officers and employees and where students can submit complaints with concrete evidence.

-Digitization of all administrative activities immediately, installation of adequate CCTV cameras in every room inside the offices for security and investigation of lost documents, installation of digital display at the entrance of the offices in the administrative building where those show the names of offices, room numbers and details of services, officers on duty including names and pictures.

-Ensuring healthy and pleasant working environment for the officers and renovating the canteen of the building.

-Modern secretarial, professional, mental and behavioral training of officers and employees should be made compulsory by law. If it's necessary, the mental service departments and centers located in the university should be resorted to.

-Administrative officers and employees cannot engage in any personal, business or political activities while in office.

-The employees union office located inside the administrative building has to compulsorily transfer to their clubs.

-Election campaigns of officials and employees should be easier.

-In order to maintain the educational environment of the university, the use of unnecessary posters, leaflets and banners which harm the beauty of the university and destroy the environment should be prohibited by law.
Source - Daily Observer