Steel industry suffering from 50pc slump in sales
Shining BD Desk || Shining BD
Published: 9/20/2022 7:37:38 AM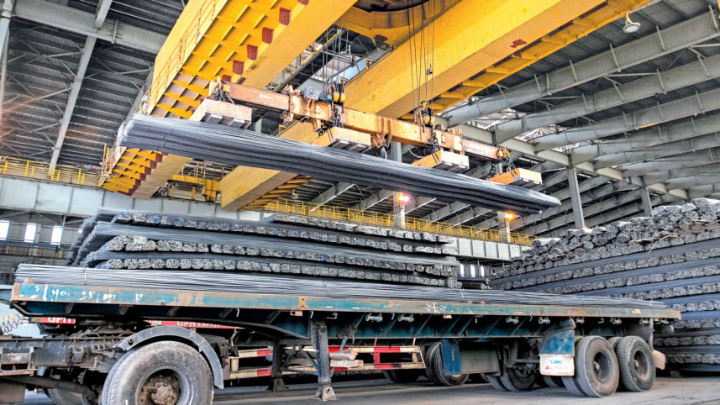 Industry insiders say sales have fallen by an average of 50 per cent to 2.5 lakh tonnes per month even though the annual demand for steel products is about 60 lakh tonnes in normal times. Photo: Star
The steel industry in Bangladesh is currently witnessing a steep drop in sales as the depreciation of taka against US dollar has hiked production costs at a time when consumers are unwilling to pay higher prices for the key construction material.
Industry insiders say sales have fallen by an average of 50 per cent to 2.5 lakh tonnes per month even though the annual demand for steel products is about 60 lakh tonnes in normal times.
The recent decline comes as a double whammy for the industry considering how sales had already slumped to about 3.6 million tonnes in 2020 due to the effects of Covid-19.
And although there is no credible data in this regard, manufacturers believe the market size was Tk 58,000 crore in 2021 while it was Tk 55,000 crore in 2019. However, they could not provide any estimate on how much revenue will come from the industry this year.
According to data of the state-run Trading Corporation of Bangladesh (TCB), MS rod was selling for Tk 91,000 per tonne in Dhaka yesterday while it was priced at Tk 91,500 to Tk 92,000 per tonne in different districts.
In addition, the data shows that the price has increased by more than 17 per cent over the past year.
Md Shahidullah, secretary general of the Bangladesh Steel Manufacturers Association (BSMA), said the production cost of 60-grade MS rod ranges from Tk 95,000 to Tk 107,000 depending on the price of raw materials used and location of producing factories.
"We reduced production to bring down losses in the face of increasing costs. We are just trying to keep the factory alive while having to pay bank instalments and workers' wages," added Shahidullah, also managing director of Metrocem Steel.
He went on to say that steel manufacturers opened letters of credit at rates of Tk 84 to Tk 86 per US dollar six months ago but are now having to settle import bills by buying each greenback at Tk 108.
With this backdrop, the cost of raw materials has increased by 30 per cent, which is quite abnormal, he said.
"This is not a problem only for the steel sector, but also all sectors that depend on imported raw materials," Shahidullah added.
The BSMA secretary general then said most factories are having to operate at half capacity due to the dip in demand.
"Demand from the public sector is relatively unchanged but we are seeing a huge drop in demand from the private sector as people have halted their construction work while many realtors are taking a go-slow approach," he said.
The demand has fallen as people are less willing to take on the added burden of higher steel costs amid ongoing inflation, pressure on the country's foreign exchange reserves and other economic concerns.
"So, the government should immediately take initiatives to reduce duty and value added tax to keep prices at a reasonable level," Shahidullah added.
Tapan Sengupta, deputy managing director of Bangladesh Steel Re-Rolling Mills, which is the largest steelmaker in Bangladesh, said millers are selling steel below their production cost in order to ensure various construction work can continue.
However, he said it is not possible to continue this practice in the long run as the industry's working capital would be exhausted.
The production cost for MS rod is around Tk 107,618 per tonne, excluding advance income tax and tax deducted at source. However, manufacturers are selling the product at Tk 91,000 per tonne.
"There is no way to reduce the production cost at this moment due to the appreciation of dollar and hike in fuel prices in the local market," Sengupta added.
Shahriar Jahan Rahat, deputy managing director of Kabir Steel Re-Rolling Mills, said although scrap price came down to an average of $581 per tonne between July and August this year from to $730 to $750 per tonne in March 2022, the overall production cost has increased due the sudden depreciation of the local currency.
As a result of the increased dollar price, the cost of raw material imports rose by around 27 per cent.
"There is a perception that steel makers make huge profits but that is practically wrong," Rahat added.
Source - The Daily Star