Shakib fakes his father's name!
Shining BD Desk || Shining BD
Published: 9/18/2022 7:34:00 AM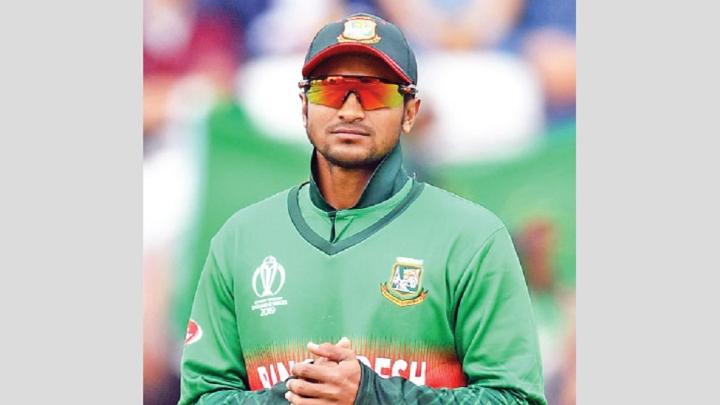 Bangladesh's ace all-rounder Shakib Al Hasan has allegedly resorted to fraudulence in getting share market licence in favour of his brokerage firm 'Monarch Holdings Limited'.
To everybody's surprise, the celebrity cricketer of the country 'faked' his father's name in the official documents of Monarch Holdings for doing business in the share market.
The Daily Sun has obtained a document (Return of Allotment) of Monarch Holdings where Shakib mentioned the name of his father as Kazi Abdul Latif instead of Khandaker Masroor Reza.
The incident was quite surprising and shocking considering the fact that Shakib is one of the most popular celebrities in the country and his father's name is widely known to all.
Our correspondent talked to Bangladesh Securities Exchange Commission (BSEC) Chairman Prof Shibli Rubayet Ul Islam to verify the forgery allegation against Shakib.
The BSEC chairman outright dismissed the allegation, saying that there is no scope for using fake name of father as information about the investors is verified through NID.
"There is no scope for using fake name of his father as proper verification was done through NID. Please do not harm him. He is our goodwill ambassador," Prof Shibli said.
When contacted, Shakib's father confirmed that his name is Khandaker Masroor Reza. He never used Abdul Latif as his name anywhere.
Shakib told the Daily Sun that he will correct his father's name.
"If there is any mistake, the company will correct it," he said.
Shakib managed to get approval of his brokerage firm 'Monarch Holdings' in February last year during his tenure as BSEC's 'goodwill ambassador. Kazi Sadia Hasan, wife of Abul Khair Hero, who was punished for share manipulation, is the managing director of Monarch Holdings while Javed A Matin and Abul Kalam Matbar are the directors of the firm
Earlier, Shakib faced an allegation that he is involved in gambling of stocks. But the BSEC during its investigation did not find any evidence against the ambassador of the market regulator in this regard.
A recent investigation of the Dhaka Stock Exchange (DSE) shows that Shakib is involved in the anomalies in trading of shares of One Bank, Fortune Shoes and NRBC Bank.
Shakib got involved in trading of around 10.4 million shares of these companies, according to DSE investigation.
The DSE investigation found the name of Shakib on eight among top 15 buyers of shares of One Bank. His company Monarch Holdings influenced the stock market to hike the share prices of One Bank during a period from November 11 to 30, 2021.
The investigation found a series of transaction in trading from Shakib's brokerage house which is a punishable offense according to the Securities Act.
The stock market regulator fined to Abul Khair Hero, his father and wife Tk 35.5 million but kept Shakib Al Hasan out of the penalties for reasons unknown.
By Daily Sun