Tama Mirza: Bold and unconventional
Shining BD Desk || Shining BD
Published: 9/18/2022 5:41:46 AM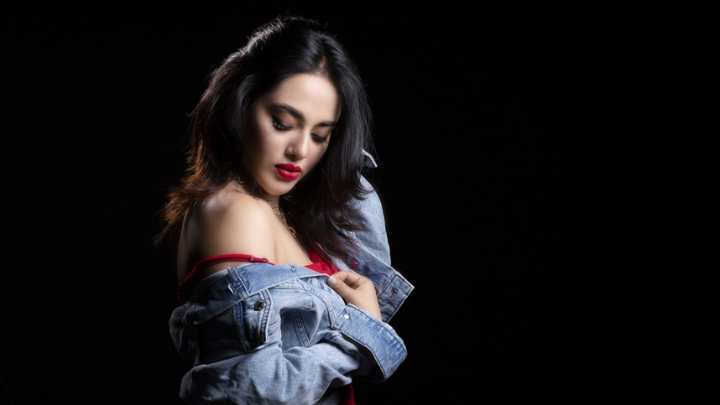 Bold and beautiful Tama Mirza isn't the quintessential silver-screen 'damsel in distress'. She continues to break stereotypes with her unconventional choice of roles in web-films and on the silver screen.
Recently, the versatile actress bagged the Critic's Choice award for "Khachar Bhitor Ochin Pakhi" at the Blender's Choice-The Daily Star OTT & Digital Content Awards 2021. The doe eyed beauty made a stunning entry at the event with her traditional black jamdani sari and scintillating backless blouse.
In a candid conversation with The Daily Star, the gorgeous diva opens up about her transition to OTT, her love life, and more.
How does it feel to win an award for your OTT work?
Pakhi holds a special place in my heart as I literally poured my heart and soul into this role. It feels great to be recognised for this amazing character, and I am really happy that Daily Star hosted such a wonderful programme dedicated to OTT. It's an honor itself to be nominated along wonderful actors like Tasnia, Tisha, and Runa Khan, and I am really overwhelmed by the love and appreciation of fans and critics.
This award is dedicated to my entire team of "Khachar Bhitor Ochin Pakhi", without whom 'Pakhi' wouldn't have been possible.
How challenging was it to essay the role of Pakhi?
The character of Pakhi was unlike anything that I have portrayed on-screen. The whole scene was shot in a factory, which did not have any proper ventilation. On top of that, the biggest challenge that I had to face was to act alongside a veteran actor like Fazlur Rahman Babu.
Your transition from movies to web films has been a treat to watch. Which medium do you think challenges you the most?
There were many judgmental comments regarding my transition from film to OTT. Many said that the audience will have a hard time accepting me on digital platforms. Fortunately, they appreciated my performance in "The Dark Side of Dhaka", "Khachar Bhitor Ochin Pakhi" and "Floor number 7". I don't think I could have asked for more.
Which director was able to bring out the best in you?
Shahnewaz Kakoly and Raihan Rafi gave me the artistic freedom to be at my natural best on screen. No matter how hard it was or how much pain I had to go through for the role they would always support me and would have the utmost confidence in my performance.
What's the weirdest rumour you have heard about yourself?
Many just randomly assume that I am arrogant, and that I am having an affair with a director. All of these are rumours, and nothing else.
Your love life seems to be the talk of the town. Are you seeing someone?
Yes, I am in love but it is only with my work and my fans. It's pretty normal to have rumours, as love is the most beautiful emotion to ever exist in this world. However, I want to focus all my energy solely on acting.
What are your upcoming projects?
I have received about 20 web film offers within 3 months. I don't think I have to worry about work for the next 3 years, as I am neck-deep in it. I will start shooting for Raihan Rafi's web film next month. I have also got another project lined up with Taneem Rahman Angshu, among a myriad of others.
Source - The Daily Star