Passenger pressure on Banglabazar ghat in Madaripur and Shimulia ghat in Munshiganj decreases
Shining BD Desk || Shining BD
Published: 6/26/2022 6:14:21 AM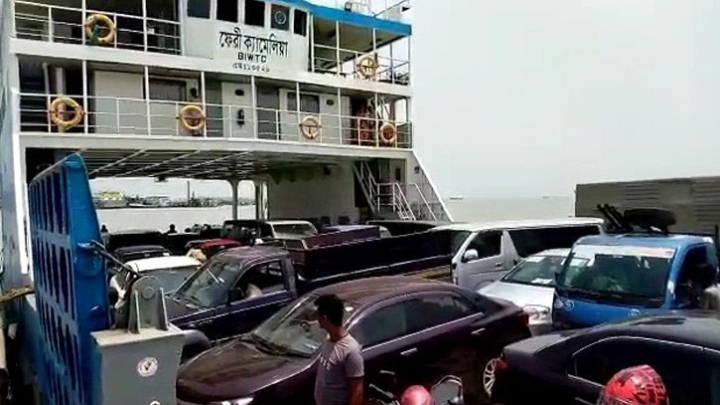 Passenger pressure on Banglabazar ghat in Madaripur and Shimulia ghat in Munshiganj decreased since Sunday morning.
Launch and speedboat movement is normal but the number of passengers is less.
A total of five launches left for Shimulia from dawn till 9:30am. Each launch had 100 passengers.
According to Banglabazar ghat sources of the Bangladesh Inland Water Transport Authority (BIWTA), there was pressure on passengers and vehicles before the inauguration of the Padma Bridge on Saturday.
Private cars, microbuses and light vehicles have also started declining in the ghat area since this morning.
Launch and speedboat movement will be kept normal as per government instructions, said BIWTA.
Rajan Ali from Zajira in Shariatpur said that, with the inauguration of the Padma Bridge, the pressure on the waterways has eased a bit.
"However, we do not take local passengers directly from the roads. That's why I stood in front of my house to get on the Padma Bridge. There is no extra pressure on the wharf like before," he added.
Alamgir Hossain, the driver of the MV Rodela launch at Banglabazar Ghat, said the launches were leaving the ghat as per the government's instructions since morning but the number of passengers has decreased a lot.
Jahangir Hossain, manager of Bepari Launch, said: "Passengers at the ghats have been reduced due to the impact of the Padma Bridge. The launches are running as per the instructions of the owners' association."
Khalil Mollah, supervisor of the Launch Owners' Association at Banglabazar Ghat terminal, said, that four launches have left from dawn to 9am but the rent is the same as before.
Russell, of Banglabazar Speed Ghat, said: "Speedboat movement from the government is normal. We have route permits and government guidelines. We are crossing the passengers accordingly."
Akhter Hossain, traffic inspector of BIWTA's Banglabazar launch ghat, said: "Launch movement at the ghat has been normal since morning. There are no instructions to stop the launch movement."
Dhaka Tribune