Cox's Bazar Development Authority chairman speaks of development
'Cox's Bazar to turn an iconic city for tourism'
Shining BD Desk || Shining BD
Published: 9/15/2022 6:22:34 AM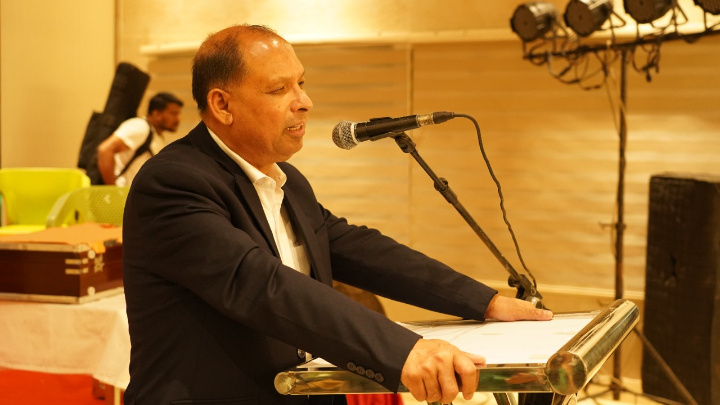 Retired commodore Mohammed Nurul Absar, a Navy officer who served 39 years in the force, was appointed as the chairman of Cox's Bazar Development Authority (CoxDA) on August 23.
CoxDA was established by the government six years ago to build Cox's Bazar as a modern and attractive tourist city through planned development. But the beach town has hardly lived up to the expectations.
Since the new CoxDA chairman joined the office, a new optimism of developing Cox's Bazar as a tourist-friendly and planned city gained momentum as he has taken several steps to this direction.
In an exclusive interview with the Daily Sun, retired commodore Mohammed Nurul Absar shared his ideas and plans for turning Cox's Bazar into an iconic tourism hub.
Thanking Prime Minister Sheikh Hasina for his appointment, he said, "Father of the Nation Bangabandhu Sheikh Mujibur Rahman had given us the country and now our Prime Minister is working to turn Bangladesh into a developed nation gradually. I want Cox's Bazar to contribute to our Prime Minister's vision."
The CoxDA chairman said the Prime Minister has allocated more than Tk 2,000 billion for the development of Cox's Bazar. This allocation reflects her intent to turn Cox's Bazar into a world-class city.
"If we take care of the world's longest beach properly, we will be able to meet the expectations of the Prime Minister and the people of Cox's Bazar. I will leave no stone unturned to make that happen," he said.
Asked about his initial focus, Nurul Absar said his first task will be to finish the ongoing development works, including speedy completion of the ongoing development of main roads and housing projects. Then he will take fresh steps to formulate and realize plans which will seem best for the beach city. "Most parts of the longest unbroken beach are still untapped. We have to use this opportunity in its best interest. I will take short, medium and long-term plans," he said.
"I will try to facilitate the government's process of exploring the blue economy. And I will always try to ensure the protection of Cox's Bazar city from the impact of climate change," the CoxDA chairman, said adding that his main aim will be to ensure the economic wellbeing of Bangladesh through developing world-class tourism environment in Cox's Bazar.
He said he will sit with all stakeholders and members of the civil society, take expert opinions and accommodate all ideas with his plan while preparing a master plan for the city.
Nurul Absar said there is no alternative to developing an integrated coastal zone management system to develop Cox's Bazar as an eco-friendly tourist centre.
Speaking about the illegal and unplanned structures already built in the city, he said, "These structures were not built overnight. Six years ago, Cox's Bazar Development Authority was established. We have laws and regulations. I already have started inspecting these structures. We are taking action against illegal establishments within a very short time."
The CoxDA chairman said it would be inhumane to evict the poor and floating people living in the hills without providing them with alternatives.
Asked about the lack of coordination between the local government organisations, the Ministry of Tourism, the Ministry of Water Resource Management and other related authorities, Nurul Absar said he knows the importance of harmonizing the role of all stakeholders and he has been working on it.
"The Mayor of Cox's Bazar, along with all his ward councilors, has visited my office. We have had a fruitful discussion. I will sit with the deputy commissioner and other officials. I do believe that we all have the same target. So, there will be no problem in ensuring the development of Cox's Bazar together," he said.
Speaking about the cleanliness of the city, he said there is no such district of the country from where people do not come to Cox's Bazar. Therefore, the beach should be kept clean and beautiful.
The CoxDA chairman said that he served in the Navy for a long 39 years. He also worked at the Prime Minister's office.
"At this stage of my life, I have nothing to ask for. I want to bring a visible change to Cox's Bazar. I want to transform the city into an iconic one so that people remember me," he said.
-DailySun