SSC and its equivalent examinations for 2022 are going to start from today.
Shining BD Desk || Shining BD
Published: 9/15/2022 4:14:14 AM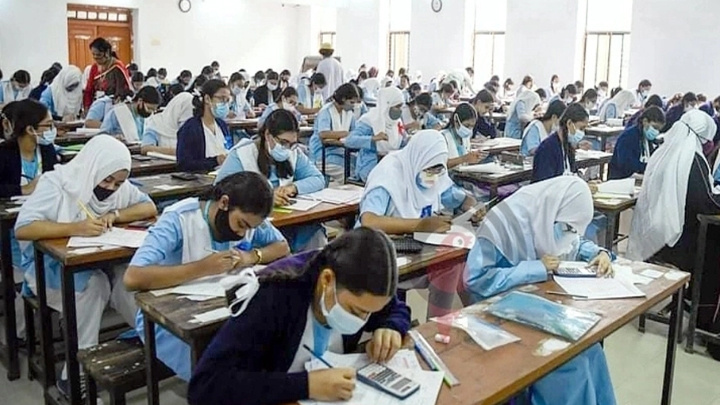 The Secondary School Certificate (SSC) and its equivalent examinations, which were postponed due to flood, will begin across the country today.
Some 2,021,868 students are expected to take part in the examinations this year. Of them, 1,599,711 would participate in SSC, 2,68,495 in Dakhil, and 153,662 in vocational examinations.
Some 3,790 centres were made available for the candidates across the country.
Generally, the examinations take place in February, but it was delayed this year because of the Covid-19 pandemic.
All candidates have been asked to enter their respective centres 30 minutes before the examinations start.
No one except the examination secretary will be allowed to carry a mobile phone inside the centre.
Meanwhile, guardians, particularly in the capital, expressed their concerns over weather and traffic situation as it deteriorated in the last couple of days.
The country has been experiencing heavy rainfall for the last three days due to a low in the Bay, causing waterlogging and traffic congestion in major cities.
Dhaka alone experienced 53mm rainfall in the 24 hours.
Bangladesh Meteorological Department yesterday forecast heavy to very heavy rainfall in the eight divisions of the country in the next 24 hours commencing at 12:00am while the Dhaka Metropolitan Police has requested the candidates to start early for their exam centres considering the traffic situation.
Munibur Rahman, additional commissioner of DMP's Traffic Division, in a statement, said, "The examinees have been requested to start for the centres with enough time in hands as the vehicular movement has slowed down due to water-logging on various roads following rain and digging."
Dhaka Education Board Chairman Tapan Kumar Sarkar said despite the inclement examinations will begin as scheduled.
"We are keeping in touch with the centre secretaries on whether there is any problem with the rainfall. So far, no centre has reported any problem to us. We expect that there will no problem for the examinees to move. All preparations for the exam have been completed. There is no uncertainty about the exam," he told reporters yesterday.