Top Army chiefs of 24 countries visit Rohingya refugee camps in Bangladesh
Shining BD Desk || Shining BD
Published: 9/14/2022 7:28:15 AM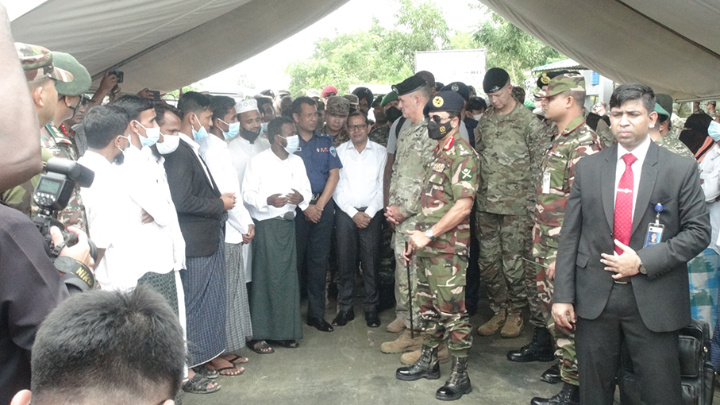 Rohingya community leaders express desire to safely return to their motherland with rights, dignity.
A group of top army officers from 24 countries on Tuesday visited persecuted Rohingya in Bangladesh's refugee camps in the country's southern border district of Cox's Bazar, according to official sources.
The delegation, including Bangladesh Army Chief Gen. SM Shafiuddin Ahmed and US Army Pacific Region Chief Gen. Charles A Flynn, talked to Rohingya leaders during the visit.
Rohingya refugees expressed their desire to go back to their home country of Myanmar's Rakhine State and not to any third country.
"We want to get back our citizenship rights first and then return to our homeland if our safety is guaranteed," Syed Ullah, a Rohingya Majhee (camp-based Rohingya leader), told journalists after talks with the army officers.
Later, speaking to Anadolu Agency over the phone, Syed Ullah added that shifting the Rohingya to any third country was not the real solution.
"For our survival as a nation, the only solution is sustainable repatriation with rights, dignity and safety," he said, adding that they want to see their next generation being educated and brought up in their own country.
Bangladesh is currently hosting more than 1.2 million Rohingya, most of whom fled a brutal military crackdown in their home country in August 2017.
The army officers are visiting Bangladesh to attend the 46th annual Indo-Pacific Army Management Seminar (IPAMS).
Earlier, in a statement, the US Embassy in Dhaka noted that the gathering is the largest conference for land forces (army, marines, etc.) in the region.
"The objective of IPAMS is to promote peace and stability in the Indo-Pacific region through mutual understanding, dialogue, and friendship," said the statement.
It underlined that the program would give senior-level officers a forum to exchange views and ideas and to develop and strengthen their relationships.
The theme for this year's conference is "Prospects and Challenges in Maintaining Peace and Security in the Indo-Pacific."