Japan has assured Bangladesh of support for early repatriation of Rohingyas: Ambassador to Bangladesh Ito Naoki
Shining BD Desk || Shining BD
Published: 9/14/2022 7:19:44 AM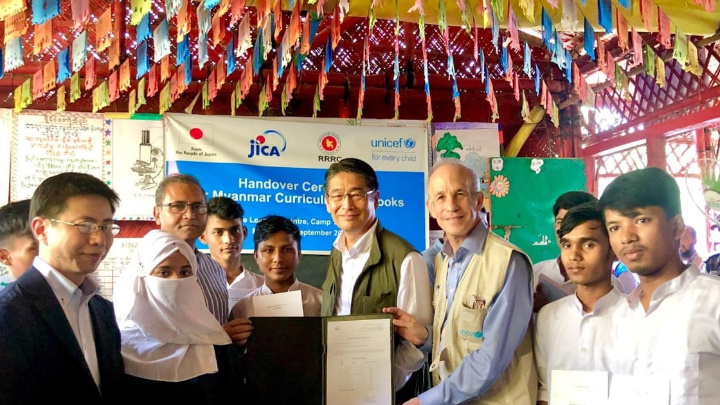 Japan has assured that it will make an effort for early repatriation of the Rohingyas to Myanmar.
"Finding lasting solutions to this crisis will be conducive to our pursuit of a Free and Open Indo-Pacific," said the Japanese Ambassador to Bangladesh Ito Naoki.
He said Japan would further cooperate with the relevant agencies for better living conditions for Rohingya and host communities both in Cox's Bazar and Bhashan Char.
Bangladesh is now hosting over 1.1 million Rohingyas in Cox's Bazar and Bhashan Char Island.
On Monday, Naoki attended the handover ceremony of the textbooks held at the learning centre in the Rohingya refugee camp in Cox's Bazar.
During the ceremony, a total of 81,000 textbooks of Myanmar language grammar, mathematics, history, general science and other subjects were handed over from Komori Takashi, senior representative of Jica Bangladesh to Sheldon Yett, representative of Unicef Bangladesh in the presence of RRRC Shah Rezwan Hayat.
The learning materials, which Japan-funded, will be used for the implementation of the Myanmar Curriculum Pilot, which was approved in January 2020, said the Japanese Embassy in Dhaka on Tuesday.
Ambassador Naoki expressed his delight that the learning centres reopened after more than one and half a year due to the Covid-19 outbreak.
"We hope this assistance will contribute to the learning of Rohingya children. I believe it is crucial for them to learn the language, history and culture of Myanmar so that they may reintegrate into the society after repatriating to their home country," said the envoy.
By UNB