Adhora Khan: My biggest dream was to see myself on the big screen
Shining BD Desk || Shining BD
Published: 9/14/2022 6:09:38 AM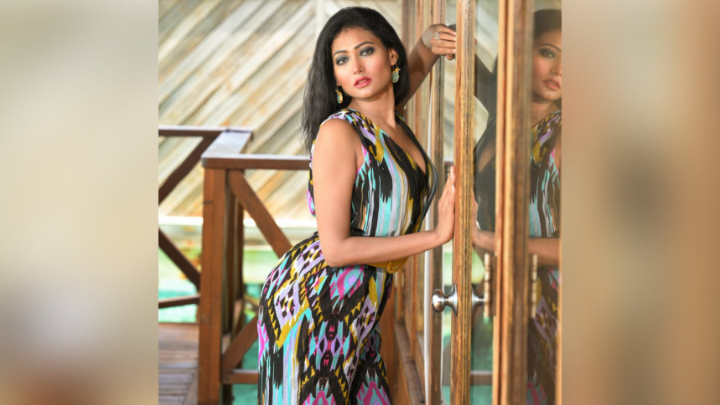 Promising actress Adhora Khan is gradually making her way into the entertainment industry of Bangladesh. Three of her movies have already been released in theatres, with three more currently in the pipeline.
In a candid conversation with The Daily Star, the "Matal" actress opened up about her dreams, aspirations, and much more.
Tell us about your Dhallywood debut.
I made my debut as an actress in the theatrical release of Ispahani Arif Jahan's directorial film, "Nayok", in 2018. However, my first movie is "Pagoler Moto Bhalobashi", which was released later.
Most actors begin their acting journey through modelling or TV series. Why did you choose to start yours in film?
My biggest dream was to see myself on the silver screen. I have a deep affection for dancing, and I was determined that if I ever stepped into showbiz, I would start my journey as an actress in films. The world of movies attracts me the most, and I want to give my heart and soul to this craft.
Is anyone from your family involved in the film industry?
My family members never imagined that I would choose to become an actress. However, as an avid movie-lover since childhood, my passion for cinema made me enter the film industry. My favourite actresses are Shabana, Babita, and Shabnur. Their brilliant performances have always fascinated me. As a performer, I want to reach their level of excellence through my dedication and passion for acting.
Did you have to endure a lot of struggles for your first film?
I didn't have to struggle much for my first film, as my dance teacher gave me the opportunity to work in it, after considering my skills as a performer. However, as a rising artiste, the struggle is something that I do not want to escape. One has to struggle to survive in the film industry, and I am definitely up for that challenge.
As a new actress in the industry, I do not have that many options to explore, however, I consider myself fortunate that I have been given opportunities to work with brilliant co-artistes and crew members, who have brought the best out of me in terms of acting.
What are your aspirations as an actress?
As I have already mentioned, being an actress was one of my biggest dreams. Now that I have become one, I want to further explore my acting skills. I want to work on good scripts, alongside quality directors to establish myself as a prominent actress in the industry. I want to play the role of characters that will forever be embedded into the minds of the audiences.
Nowadays, most actors opt to work on OTT platforms. What are your thoughts about this?
OTT is making a huge contribution to the world of entertainment. During the pandemic, OTT kept the audience entertained, with its quality product and unique storytelling. I would love to work in both films and OTT in the future.
After the pandemic, people are finally returning to theatres. Do you think it is a great time to release more Bangla content in the halls?
I believe this growing interest to watch movies in theatres has become a blessing for Bangla cinema, as we can finally draw a large number of people to the halls. Take the massive success of "Poran" and "Hawa" as an example, Bangla cinema is currently experiencing its golden era.
The success of these movies has also attracted more investors and producers, which will have an overall benefit on the industry. I am spellbound by Mejbaur Rahman Sumon's "Hawa", as it has incredible cinematography and an excellent script. We need more movies like "Hawa" in our country.
Source - The Daily Star