General Secretary Obaidul Quader: Sheikh Rehana has endless compassion, love for Bangalees
Shining BD Desk || Shining BD
Published: 9/14/2022 5:27:11 AM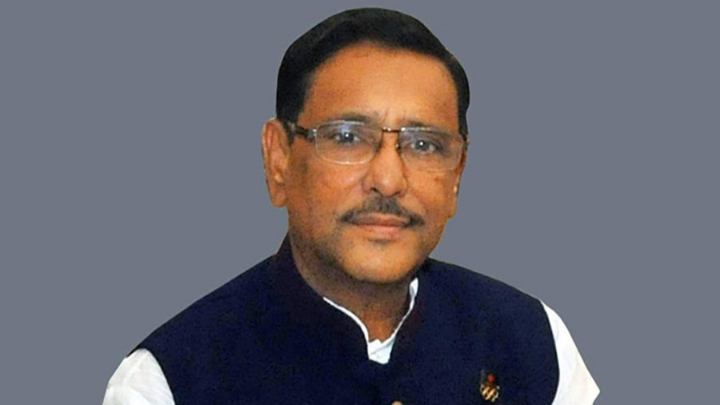 Awami League (AL) General Secretary Obaidul Quader today said Sheikh Rehana, younger daughter of Father of the Nation Bangabandhu Sheikh Mujibur Rahman, is a true Bangalee by heart and a kind personality with human values.
"As a member of the Bangabandhu family, she has infinite compassion and love for the Bangalees," he said in a statement, extending his greetings to Sheikh Rehana, also the younger sister of Prime Minister Sheikh Hasina, on her 67th birthday.

Sheikh Rehana is always an uncompromising person in the interest of the country and its people, Quader said, adding that she is an instance of integrity and a Ratnagarva Maa (mother of talents).

She made her three children educated from renowned educational institutions of the world and they are successful and established in their respective fields today, he said.

After losing her father, the AL general secretary said, Sheikh Rehana faced endless sufferings but overcame those with patience.

He said Sheikh Rehana used public transports in cities like London and even she is sharing a house with another Bangalee family there.

"Despite that, she never derails from the principles and ideals of the Father of the Nation. Bangabandhu's daughter Sheikh Rehana has set a rare example of living like an unassuming commoner despite being at the centre of power," Quader said.

He said Sheikh Rehana is the name of a human character comprising a wonderful combination of patience, honesty, courage, determination, diligence, devotion, generosity and self-control.

The road transport minister said after losing most of their family members in the August 15 carnage in 1975, two sisters – Sheikh Hasina and Sheikh Rehana – were the last resort to each other, bearing an ocean of sorrow in their hearts.

The two sisters had passed the exiled and terrible expatriate life sharing their pains with each others, he said.

After the killing of Bangabandhu, Quader said, Sheikh Rehana under the instruction of Sheikh Hasina voiced protest first in the international arena against the cruelest carnage in the human history.

He said despite being a member of a political family, Sheikh Rehana never comes to active politics.

"But, apart from inspiring AL President Sheikh Hasina and other politicians of the party, she (Rehana) has been providing advice and cooperation on various issues in every crisis, including the movement and struggle to restore democracy and the spirit of the Liberation War," the AL general secretary said.

He said Sheikh Rehana played a similar role in making Prime Minister Sheikh Hasina a successful statesman, just as Bangamata Sheikh Fazilatun Nesa Mujib had played in making Sheikh Mujib Bangabandhu and the Father of the Nation.

Sheikh Rehana has been quietly playing a role in the welfare of the country and its people while she even donated her Dhanmondi house for the country's emancipation, Quader said.