"Bangladesh to lose $570m every year due to climate change"
Shining BD Desk || Shining BD
Published: 9/13/2022 10:20:15 AM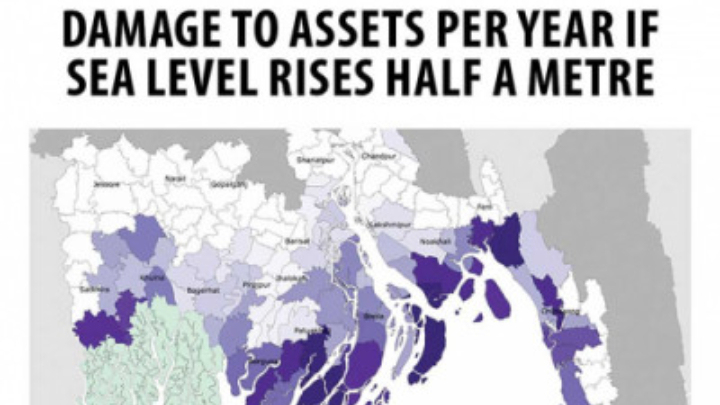 Because of climate change, cyclone-induced flooding could cause damages worth $570 million across coastal areas every year in future, said a new World Bank report released yesterday.
The report, "Bangladesh: Enhancing Coastal Resilience in a Changing Climate", analysed the effects of a 0.5-metre rise in sea level, which is "equivalent to the conditions likely to occur in the second half of this century".
In that event, Hatiya and Subarnachar upazilas in Noakhali; Mirsharai, Bakalia, Chandgaon, Hathazari and Sandwip upazilas in Chattogram; Galachipa in Patuakhali; Amtali in Barguna, Char Fasson in Bhola and eight other upazilas across Satkhira, Cox's Bazar, Khulna and Bagerhat will each experience yearly damages of at least $25 million.
According to the report, these are the upazilas that will be hardest hit by a half-metre rise. Of them, the worst affected will be Galachipa, Amtali and Char Fasson.
In the report, there are three categories of floods brought on by cyclones, based on their magnitude. A 10-year cyclone flood event is one that is likely to occur once every 10 years; a 25-year flood once every 25 years; and a 100-year one occurs once every century.
A flood classified as a 25-year flood is harsher than a 10-year flood.
"Three flood events were compared, reflecting the inundation associated with a 10-year, a 25-year, and a 100-year cyclone flood event," said the report.Some of the above-mentioned upazilas would go under as much as 8 metres (26 feet) of water in the case of a 100-year flood if there is a sea level rise of half a metre.
"Alongside an increase in coastal flooding, a sea-level rise will push saline water further into the tidal channels, threatening agricultural production, water supplies, and the diversity of coastal ecosystems," said the report.
In addition to calculating the annual damage, the report estimated the damages a flood event of these magnitudes would cause.
In the event of a half-metre sea-level rise, a 10-year flood would cause damages worth $5.077 billion, a 25-year flood would cause damages worth $10.8 billion and a 100-year flood would cause damages worth $21.109 billion, said the report.
"At present, 6.4 percent of the coastal population are exposed to a 10-year flood event, and 27.3 percent of the coastal population are exposed to a 100-year flood," said the report.
With a half-metre rise in sea level, this would increase to 10.2 percent and 34.5 percent respectively.
This situation is worsened by erosion, both along the coast and in tidal channels, the report said.
It cited a recent study that examined river erosion and found that a quarter of river channels migrated more than 60 metres over the last 30 years, with some moving as much as 500 metres.
The WB analysed coastal resilience projects since the 1960s -- including large infrastructural adaptations like the construction of polders -- and zeroed in on a lack of maintenance as a significant challenge.
A polder is a low-lying tract of land enclosed by dikes.
"O&M [operations and maintenance] in Bangladesh suffers from a lack of resources. Budgetary, organisational, and political constraints can easily lead to a focus on grand schemes rather than mundane O&M needs," said the report.
"The lack of O&M is complicated by the fact that many donor-aided projects do not provide funds for O&M," it said.
The report also emphasised on the use of mangrove forests for coastal protection.
"In terms of combating coastal and riverine erosion, the traditional approach has been to build either temporary measures or hard engineering solutions. These measures can be effective but can also be expensive and require intensive maintenance. Softer nature-based solution approaches have also been implemented through the conservation and reforestation of mangrove forests throughout the coastal zone, which help in stabilising shorelines while simultaneously providing sustainable community livelihood opportunities and biodiversity benefits," said the report.
"Hybrids of traditional infrastructure with nature-based solutions, like sediment solutions and mangrove restoration for protection against cyclones and erosion, should be pursued in future programmes," it recommended.
Source - The Daily Star