Sixteen-year-old Ali was killed in a road crash on Sunday
Students block Farmgate demanding justice over fellow's death in road crash
Shining BD Desk || Shining BD
Published: 9/12/2022 9:30:43 AM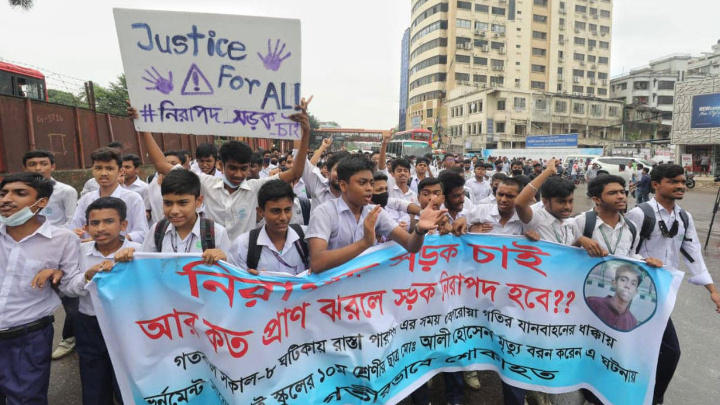 Students of Tejgaon Government Science School and college along with others from different educational institutions block the Farmgate intersection demanding justice and safe roads for their classmates on Monday, September 12, 2022Mehedi Hasan/Dhaka Tribune
Students of Government Science High School on Monday blocked Dhaka's Farmgate intersection demanding justice for their fellow Ali Hossain, who died after being hit by a vehicle.
The agitation took place at around 12pm, according to media reports.
The students reportedly chanted several slogans, including "we want justice", and "my friend is in the grave, why are murderers outside" and blocked several roads.
This caused a long traffic jam on the east side of Farmgate, but now they are allowing cars to pass.
Meanwhile, Tejgaon police station officers assured the students that the vehicle which killed their friend had seized, but the students refused to move from the road.
On Sunday, Ali Hossain, 16, was killed after an unidentified vehicle hit him in the Tejgaon area of Dhaka.
The speeding vehicle hit Ali in front of the Bangladesh Government (BG) Press in Tejgaon around 7:30am when he was going for his coaching classes, leaving him seriously injured, said his father Azmir Matbor.
Locals rushed him to Dhaka Medical College Hospital, where doctors declared him dead, said DMCH Police Outpost In-charge Inspector Md Bacchu Mia.
-DhakaTribune