Syeda Sajeda Chowdhury no more
Shining BD Desk || Shining BD
Published: 9/12/2022 4:18:13 AM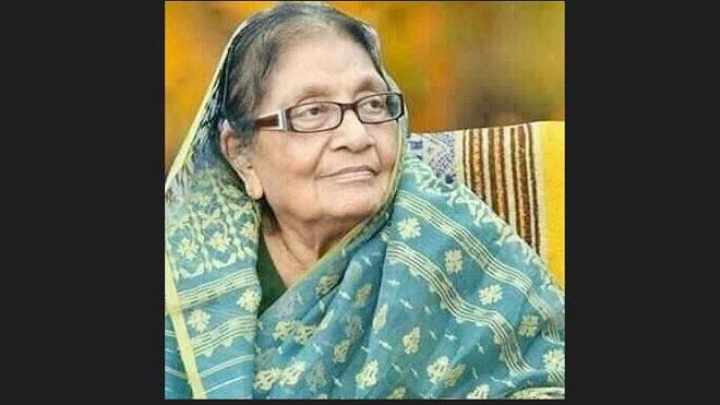 Deputy leader of Jatiya Sangsad (national parliament) Syeda sajeda Chowdhury has passed away. She died at Dhaka's Combined Military Hospital (CMH) at around 11.40pm on Sunday.
She was 87.
Sajeda Chowdhury was a valiant freedom fighter and a noted organiser of the Liberation War. She was a presidium member of ruling Awami League. She had been elected member of parliament multiple times from Faridpur-2 constituency.
Sajeda Chowdhury had been ailing for a few years. She was admitted to CMH last week. She is survived by three sons and a daughter. Her husband Golam Akbar Chowdhury died in November, 2015.
Sajeda Chowdhury's body will be taken to her electoral constituency, Nagarkanda in Faridpur on Monday afternoon.
Following her namaj-e-janaza there, her body will be brought back in Dhaka. There will be a janaza in Dhaka at the south plaza of Jatiya Sangsad. She will be buried at Banani graveyard in the capital, said her assistant personal secretary (APS) Md Shafiuddin Chowdhury.
The veteran politician was born in 1935. Sajeda Chowdhury got involved in politics with Awami League in the 50s. In the critical moment following the assassination of Bangabandhu Sheikh Mujibur Rahman along with his family on 15 August, 1975, she played a key role in keeping Awami League organised.
Later, she held the position of Awami League general secretary from 1986 to 1992. Prior to that, she was the general secretary of Mahila Awami League from 1969 to 1975.
When Awami League came to power in 1996, Sajeda Chowdhury served as the forest and environment minister.
After Awami League won the elections of 29 December, 2008, Sajeda Chowdhury was made deputy leader for the first time in the Ninth Jatiya Sangsad. Later, she was made the deputy leader of 10th Jatiya Sangsad as well.