Dengue turns for the worse
Shining BD Desk || Shining BD
Published: 9/7/2022 5:37:28 AM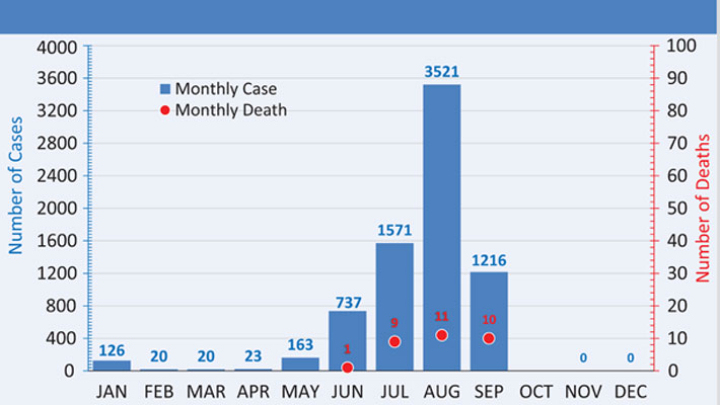 The country's dengue situation has been worsening for the last few weeks as 27 areas of Dhaka North and South city corporations have been identified as high-risk zones for the dengue outbreak.
Health experts said there is no alternative to active public participation to prevent the spread of dengue by destroying the breeding grounds of the vector of the deadly disease.
They also fear that the dengue situation may deteriorate this year due to intermittent rain over the last few days, which helps the dengue vector grows.
"If the breeding grounds of the vector are not destroyed immediately, the situation may take a serious turn anytime," Dr Md. Nazmul Islam, Director (Disease Control) of DGHS told the Daily Sun.
The Directorate General of Health Services (DGHS) said the dengue situation has worsened over the past few weeks with the number of patients and casualties from the disease increasing every day.
The daily count of dengue cases crossed a hundred over the last two weeks and continues to rise.
DGHS data show that 284 new dengue patients were hospitalized and five died in the country in past 24 hours. Of the total patients, 224 were admitted to 47 hospitals in Dhaka city.
Of the five deaths, two died in Dhaka city, two in Chattrogram and one in Barishal.
Some 850 dengue patients are undergoing treatment in hospitals. Of them, 711 are in 47 hospitals in the city. A total of 1,216 patients were hospitalized and 10 patients died in September.
Some 3,521 dengue patients were hospitalized and 11 patients died in August, 1,571 patients were hospitalized in July while nine deaths were reported during the period.
The health directorate said some 737 dengue patients were hospitalised in June, 163 in May, 23 in April, 20 in March while 20 in February and 126 patients were hospitalised in January.
A total of 7,397 dengue patients were admitted to hospitals in the country and 31 died this year. According to the World Health Organization (WHO), dengue is a viral infection transmitted to humans through the bite of infected mosquitoes. The primary vectors that transmit the disease are Aedes aegypti mosquitoes and, to a lesser extent, Aedes albopictus.
Dengue usually grows in clear and stagnant water. Even a small quantity of water, as little as 40 ml, can grow mosquitoes leading to such deadly diseases.
These mosquitoes typically lay eggs near standing water in containers that hold water, like buckets, bowls, animal dishes, flower pots, and vases.
DGHS sources said recent research has found that the Aedes mosquito grows not only in clean water; it grows also in saline and dirty water of sewerage. "If such thing happens in our country then it is worrying for us," a DGHS official told the Daily Sun.
"The dengue situation will depend on vector control. If the Aedes mosquito is destroyed, the dengue will remain under control, otherwise, it may take a serious turn at any time, especially in this rainy season," Prof Dr Tahmina Shirin, director of IEDCR, told the Daily Sun.
"People have to keep their homes and surroundings clean. At the same time, if anyone suffers from any symptom of dengue-like fever, they should consult a doctor immediately," Prof Dr Tahmina Shirin, Institute of Epidemiology, Disease Control and Research (IEDCR) told the Daily Sun.
Dr ASM Alamgir, former Principal Scientific Officer at IEDCR, said, "Dengue may take a serious turn anytime this year as research found dengue infection with new serotype Den 4 in Bangladesh. So, dengue-related complications may also increase."
Talking to Daily Sun, Dr Ekramul Haque, Program Manager (malaria & Aedes transmitted disease) of the DGHS, said a monsoon survey conducted from July 11-22 has identified places in 13 wards of Dhaka north and 14 wards of Dhaka south city corporations as high-risk zone for the dengue.
Dr Ekram said usually August to October is the peak season for dengue disease, but this disease may spread at any time of the year. "This year the number of dengue cases may increase further anytime."
The health ministry and the Ministry of Local Government and Rural Development (LGRD) have taken various initiatives, including carrying out anti-mosquito drives to control the vectors, sources said.
"An inter-ministerial meeting was held on July 28 at the LGRD ministry where LGRD Minister Md Tazul Islam asked all concerned to carry on the anti-mosquito drive," Md Haider Ali, PRO of the LGRD Ministry told the Daily Sun.
Dhaka south and Dhaka north city corporation sources said they are also conducting different anti-mosquito drives at different places in the cities.
"We have been conducting campaigns in schools, distributed leaflets and instructed the ward councillors to control the dengue vector. At the same time, we are also regularly conducting anti-mosquito drives," Dr. Fazle Shamsul Kabir, Chief Health Officer (Additional responsibilities) of DSCC told the Daily Sun.
Source - Daily Sun